Trail Photos, a Reading, and Fencing Day 1
I just had to post a few photos that one of my fellow trail riders took. I so rarely get photos beyond the ones taken between Luke's ears.
Not sure if you can very clearly see the bridge behind me, but I was pretty happy about getting over it without any problems.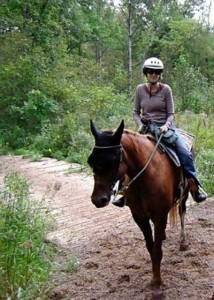 I think I was digging for my camera or a snack in this photo. Very serious biz.
Smirking? Or perhaps cheeks full of whatever I dug out of my pack?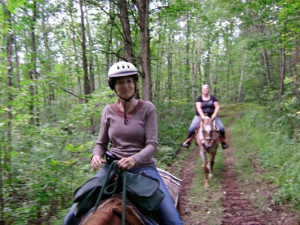 I look dorky but I think Luke looks great in this photo. He's put on some muscle.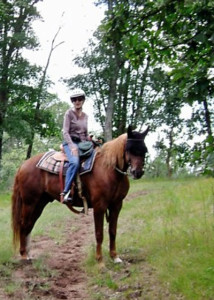 And the infamous back view…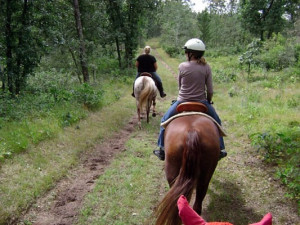 Last night, a friend and I went out for drinks and appetizers before we went to a reading at The Loft across the street. A fellow blogger, journalist, and writer named Laurie Hertzel recently had her book "News to Me" published.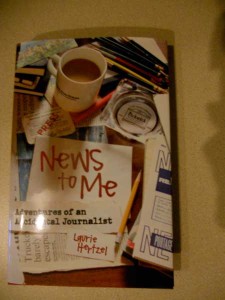 She is now busy doing all the interviewing, readings, and publicity stuff that goes along with being published. She had a great turn out and did a wonderful job entertaining us. Below is a photo of attendees enjoying food and beverages after the reading. You can see better photos at
Laurie's blog
.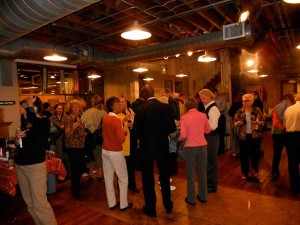 Today was Day 1 of my fence installation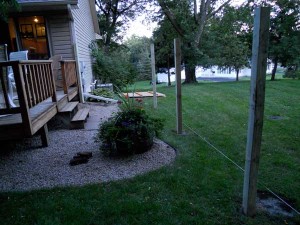 I have a few privacy fence posts up and the fence panels are ready to go up tomorrow after the cement dries. The privacy portion is only 3 panels. The rest of the fence is black coated chain link. If the weather cooperates, the rest of the posts should go in tomorrow.
The steps on this side of the deck will be removed. Eventually, when I can swing it, the area between the deck and fence will be all rock with some kind of water feature. I'm dreaming of boulders, a small Java sized pond, a few plants, and water cascading into the pond to help drown out some of the neighbor noise and make a peaceful oasis to sit by. A lot to ask out of such a small space, but I think it's doable.
I was hoping the old playhouse in the photo below could be fixed up to use for my gardening supplies and to have as a place to repot and start seedlings, but it's too rotted and will have to be torn down, along with the little bit of fencing around it. I'm not sure yet whether I'll put up a new shed or perhaps put in a fire pit or just plant some more bushes and plants out there. The building right next to my shed belongs to my neighbor, so there's not a lot of room to work with.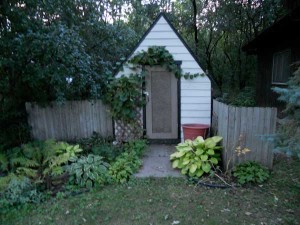 I can't wait to see how the fence looks by the weekend! Keeping my fingers crossed that it will get done.