Today was the big day. Cousin A was coming to my house to whip up some Christmas cookies. Well, neither of us are exactly experienced Christmas cookie queens so we had a few "live and learn" moments but they all ended up tasting good and that's what matters. But I'm getting ahead of myself.
Rather than buy my ingredients well ahead of time like smart, well-organized people do, I got side-tracked with the looking at skis, kayaks, sleeping bags, and so on at Midwest Mountaineering so I had to run to the grocery store this morning.
But first I had to feed the horses and fill the water tank. And as long as I had my outdoor gear on, I hauled saddles and bridles in from the horse trailer to the mud room in the basement where I'll clean them and keep them inside for the winter as the cold dry air does bad things to the leather.
Then I had to admire the sunrise.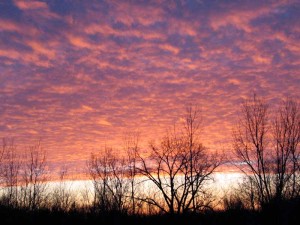 And I baked a couple loafs of bread, one to give to cousin A.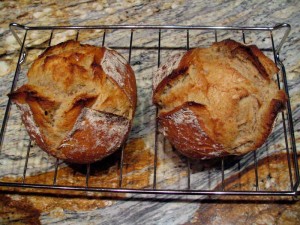 At 8:00 I ran to the grocery store. Got things set up in the kitchen. Then went to church.
When I got home, Java wanted to know when A was going to arrive. She was tired of waiting.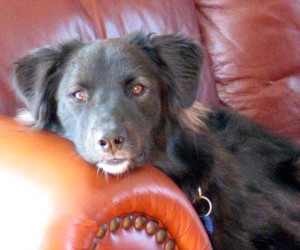 She kept looking longingly out the window.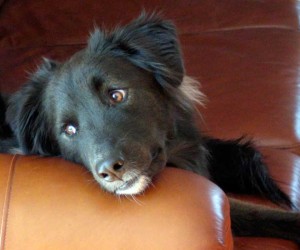 When my cousin did arrive, Java kept shoving her ball into cousin A's leg, trying to get her to play catch. She (Java not A) finally plopped down, right in front of the stove.
I got an angel cookie cutter and a pony puzzle from my cousin. I've already used the cookie cutter of course. Can't wait to work on the puzzle. It's for ages five and above so I should be able to handle it.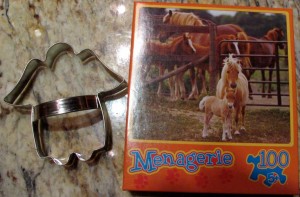 Cousin A did find a krumkake iron so she was rarin to go on those. However, she soon discovered that making these things is a pretty futsy, delicate, slow going process. Oh yeah, and can you tell my house is a bit cold? Hey, I turned the thermostat up to 68 degrees just especially for company!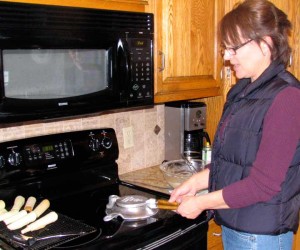 We had cookies going all over the place.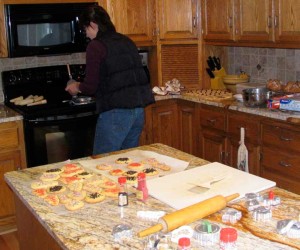 I was TRYING to thinly roll out the sugar cookie dough but it was sticking like crazy to the plastic cutting board. I also tried rolling it with wax paper both under and on top of the dough but it still seemed to stick. Sprinkled flour wasn't helping either.
So I ended up with some really thick sugar cookies that expanded exponentially so my angel cookie looked pregnant and Santa, well, I know it's a Santa cookie but no one else will guess that. I ate the angel to hide the evidence of any wrongdoing.
Mistakes didn't really matter as the main point of baking cookies was for my cousin and I to spend some time together. I'm surprised we didn't mess up any recipes with all the talking we did while we were measuring and mixing. It was a great way to spend the day!