Sleep Deprivation is Kicking My A…
How long can someone go with out sleep? Obviously, a month is too long.

 

This morning I wheel-barreled out some hay for the horses, brought the wheel-barrel back in the barn and closed the door, planning to walk back up to the house when I saw two horses still standing in their stalls, looking at me like, "What gives?"

So I let them out and then wondered how I was going to clean out the stalls because the bucket wasn't on the tractor, and my manure buckets were almost full.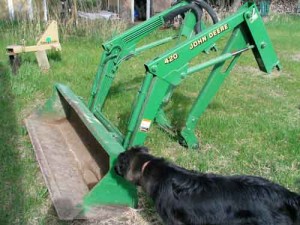 But I cleaned as much of the stalls as the remaining space in the buckets allowed, getting Luke's stall cleaned and half of Murphy's.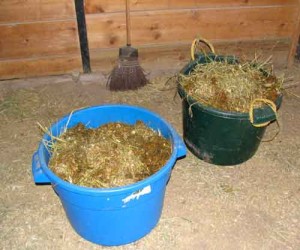 Looking around at the barn, I was thinking how much cleaning and organizing are needed out there. I need to knock down all those cobwebs and grime.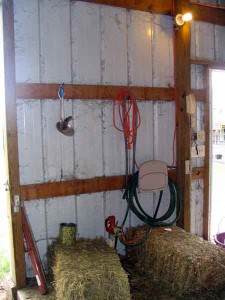 Here's an excellent specimen of cobweb grime combo.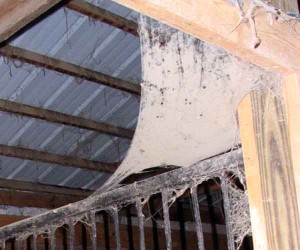 That's all I see around me lately, is things that need to be cleaned, sorted, sold, given away, or packed up to go with me. I have so many books and art supplies! I worked so hard to get this stuff all organized in all my little cubes and drawers in my office – my awesome retro office. 
The paintings on the wall were done by my son in high school. My desk is an old kitchen table from my parent's old house.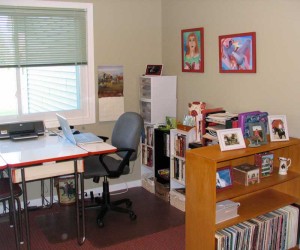 This is the closet in my office full of more office and art supplies. The painting in the upper left was also done by my son while he was in high school.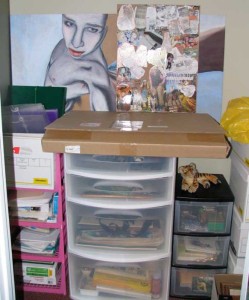 This is my file cabinet that was painted to match my desk. The photo to the far left is my adoptive Mom. I bought the record player recently so I could play all the old records I have from my adoptive parents and that I inherited from my adoptive brother after he died.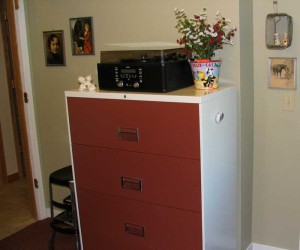 But I do have one less thing to move — my goldfish died yesterday. I suppose he died from loneliness after his buddy the bottom feeder was murdered by the house remodelers. Sigh…
When I came back in the house from the barn. I went to make coffee. I put the water in the pot, the coffee in the filter-thingy, and turned it on. Hmmm, why isn't it brewing? After several minutes, I realized the water was still sitting in the pot, and that I hadn't poured it into the coffee maker.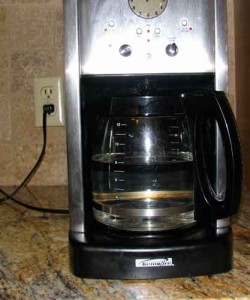 So I turned the coffee maker back off and poured in the water. Came back to pour myself a cup of coffee a half hour later and no coffee. I hadn't turned the coffee maker back on. 
I think I should stay away from heavy equipment today.  
But I'm trying to focus on simple pleasures, like sheets dried out on the clothesline. Whereever I move, I have to be able to have a clothesline! None of those stupid developments or associations that consider clotheslines and whatever is hanging on them "unsightly" and therefore, forbidden. My current clothesline is just some rope secured under the deck. It's tied up high so people don't get decapitated by it, but this means I have to use a stepping stool to hang up my laundry.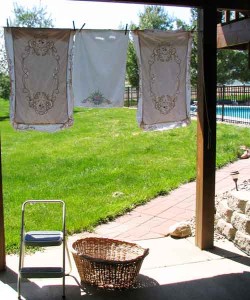 I'm planning on going to Sue's today to try out kayaking and hopefully, check out some of her artwork. The weather has turned a bit chillier today and the wind is supposed to pick up, so I'm not sure this will happen, but I hope it still does. Although, in my current sleep-deprived condition, I maybe shouldn't get into something so tippy.