We assume the really serious changes in our lives happen slowly.
But it's not true. The big stuff happens in an instant.
— Meredith, Grey's Anatomy (1/14/2010)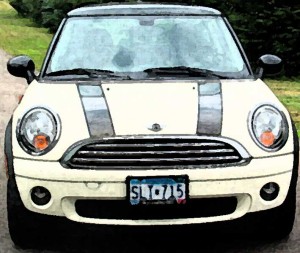 I dreamed last night that my little Mini Cooper had an engine fire and was pretty much toast — burnt toast. A nice policeman offered to call someone to come pick me up and take me home. Now here's the nightmare part of it, I couldn't think of anyone for him to call!
I woke up, with the wind howling, and the house creaking and thought, "Oh, my God! Who do I call if my car breaks down?"
And not just that!
Who do I write down as my emergency contact on all those stupid forms that call for such stupid things?
What if I need surgery, even simple out patient stuff, where they say I need to have someone drive me home? Who's going to drive me home?
What if I need a hip replacement? Who's going to help take care of me?
What if I'm unconscious? Who will know anything about my medical history or insurance information?
What if I get the flu and can't get out of bed to feed the horses or let Java outside?
Who do I put down on my living will? I'm not so much worried that someone might pull the plug prematurely. I'm more worried that they will keep me going in a vegetative state indefinitely. Maybe I can leave the X down on that form…
I'm trying to make a joke out of this but it really is no laughing matter!
Maybe I can make up people and hope they never need to actually be called.