Hope, Sweet Hope, Wherefore Art Thou?
"Even as the stone of the fruit must break, that its heart may stand in the sun, so must you know pain…. accept the seasons of your heart, even as you have always accepted the seasons that pass over your fields…." ~ Kahlil Gibran
I've baked so many cookies lately that I should weigh 200 pounds by now. The latest are a peanut butter, oatmeal, chocolate chip cookie for the person who can't make up their minds about anything. Baking is somehow therapeutic and I'm sure my coworkers love my new baking efforts.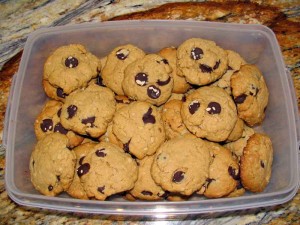 Cooking is good therapy too. Here are my very special buttermilk berry pancakes. Comfort food.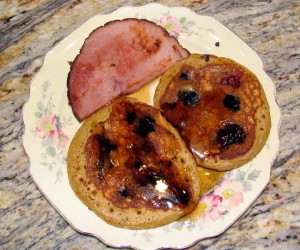 I had some initial success at being hopeful and optimistic early on in this whole divorce, healing process. It was a whole lot easier to keep myself upright in the non-winter months. Winter is tough even in the best of circumstances — the shorter days, lack of sunlight, and the horse care in the frigid weather about kills me.
We've been sinking down to about 25 below at night and barely getting into positive numbers during the day. Tough Minnesotan that I am, I could put on a ton of clothes and go do something outside, which I know would help with my lack of energy and alleviate some of the muscle pain and spasms I'm having from being so tensed up. But it's a catch 22, in that the lack of energy and pain keep me from doing the things that might help.
I tell myself constantly that "You will make it through this!" I try to find things to look forward to.
Look! You can take a trip from Minnesota through Colorado and go see Santa Fe and Albuquerque!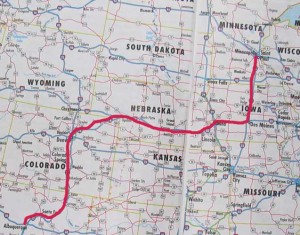 I was doing pretty good getting myself to believe that I can make a great new life for myself — full of travel, outdoor adventures, old and new friends, a cute house, and good, fun living — but then reality hit.
I'm really going to be completely on my own. I have to move. I'm being phased out of my job and none of those optimistic plans are doable without a job.
I'm walking away with a horse, a truck, and a trailer but I don't know where I'm going to put any of them or whether I'll have enough money to allow me to keep them for very long. There is no back up plan. No one to help. And that "can do" attitude is turning into "Cannot!"
The practical fighter in me tries to take the problem by the horns. I spent three hours last night working on a budget of my expenses. Based on my current salary (that's optimistic of me), I'm coming up $700 a month short, which is better than the initial $2000 short I was getting. I'm still looking for more places to cut without giving up on bigger and better horseback riding adventures this year. And I don't want to give up on having a home where I can have a garden, lots of trees, and oh, yeah, the house itself should have wood floors and beautiful views of the outdoors (which means I want to be where there are beautiful views).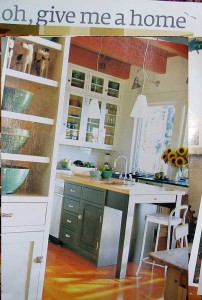 When I read what I want, I feel selfish, like I shouldn't need a specific kind of house in a certain kind of location to be happy. On the other hand, I'm already losing my husband; I'm not going to beat myself up for wanting to hang onto some pieces of what remains of my past life.
I hear that God has a plan for me, that better times are in store. I want to believe that but, unfortunately, God needs something to work with in executing His plans and He's overestimated what this girl can handle. I know, I'm supposed to stop struggling and trying to figure this all out on my own and control everything.
But the question in my mind is why did I have to have one more person that I love turn on me? They die or they turn on me and this is just one too many in the long line of losses. I mean my husband is willing to give up a great deal financially and to just walk away from a lot of hard work just so he can get away from me. How does a person take that? How does a person feel okay after finding out just how awful life was being with them? I feel as though I'm being punished for something that was unforgivable, at least to him.
And no, it doesn't help to think that he's not walking away from something, he's walking towards something, something better, like I should be doing. Better? Okay, therein lies the problem.
I seem to have a talent for making other people unhappy if they spend too much time with me. Hell, I'm probably driving blog readers away this very minute, which is why I tried to just stop writing at all. There must be some part of me still fighting to stay connected to something.
Maybe this is the way all wives feel who are left for another woman — they wonder if they got to be too old, they weren't exciting anymore, they weren't fun enough, their lives got too complicated and it was a drag. Some spouses get angry and villainize the other person. I'm best at villainizing myself.
I wrote previously that I was feeling more comfortable in my own skin than I had ever felt before but whatever I felt when I wrote that has abandoned me and no amount of fighting to get that feeling back has helped.
The memory of the resentment and bitter coldness that was sent my way as part of being left, long before I was actually left, seems to have permanently sunk into my bones and made me feel skeletal and lifeless.
I look in the mirror and see that the spark that was once there is gone. I look and feel ancient and broken. I hardly recognize myself.
The one thing I don't see anymore in that face is hope and I want it back.