Everything is funny as long as it is happening to somebody else.
–Will Rogers
My fence passed inspection today – Yeh!
While working on switching out a rotting deck railing and missing flashing between my deck and house, my contractor discovered that the deck was not properly attached to the house — like no rim joists, no sill plate, which has resulted in some leakage and rotted wood — a lot of rotted wood. I'm now wondering if the "unique fabric" covering the ceiling in the basement, which I thought was so creative, is actually covering water damage. – Dang!
The deck can be fixed by making it free-standing with footings. The house damage will be fixed and something will be added to still bolt the deck to the house at the corners. It will be done the way it should have been built in the first place. – Yeh!
This deck and house work will be expensive but unavoidable if I want to prevent the situation from getting worse. – Dang!
My Last Will and Testament, Health Directive, and all that jazz are all completed and signed and I can now die in peace. – Yeh???
When I went out to my car the other morning I discovered that my two electronic garage doors were open. I never open both doors and I know I closed the truck side after I got home from my trip. – Dang it! Quit messing with me!
My opener's frequency has been changed and my security system is fully functional. – Yeh!
Did I mention that I was terrified about trailering my horse for three hours by myself to get to last weekend's trail ride? I was. I almost didn't go. – Dang!
But I did go. – Yeh!
One would think that as a person does more and more things that they are afraid of doing they would experience less and less fear when faced with new challenges. Unfortunately, in my case, this has not been true… so far, anyway – Dang!
Hmmm… Need to finish this on a positive note.
How about a few more trail riding photos? These photos from one of the other riders turned out so much better than mine!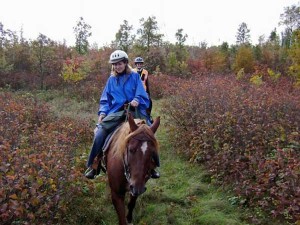 The woman who owns and rents out the cabin was in the lead.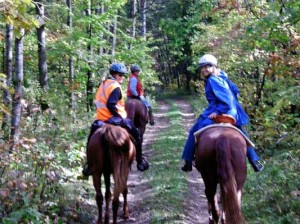 I love the mossy green of this one.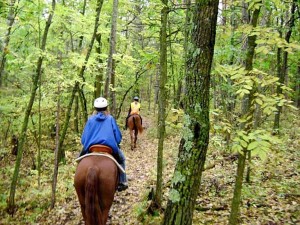 Lunch and butt break.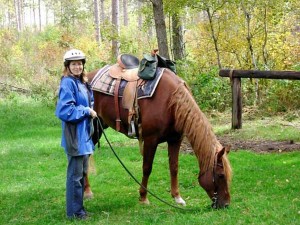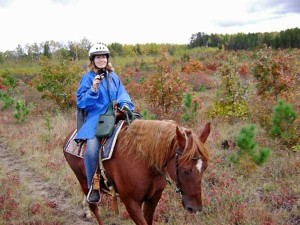 My friend's pretty little Arab mare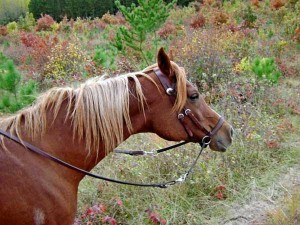 Pretty scene…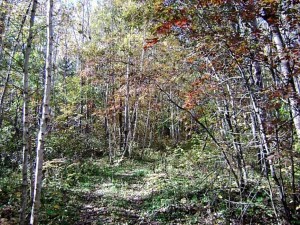 And more prettyness