It's my Dad's birthday today, the first since he passed away. We had a big birthday party for him in 2006, my sister S made t-shirts for it that we all wore. We planned the party after we first discovered that our Dad's cancer was advanced and incurable. He survived for three more years.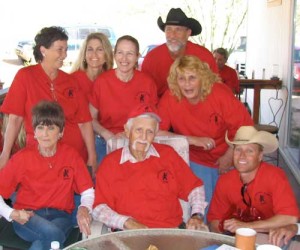 Mom, Dad and Us Kids
I was trying to think of something to do to honor this day. My sister T suggested that I write our Dad a poem, the way he did for me on some of my birthdays. 
I haven't written a poem for 25 years and never have I written the kind of poems my Dad wrote. But here's my attempt at a cowgirl poem.
Birthday Poem for My Dad
Start with a shedder, long strokes of the hand.
Hair flying everywhere, covering the sand.
Move into a rhythm, several strokes then a flick.
I got lost in my task, it gives me a kick.
After a shedder, a large brush, and one that's fine,
I say, "Good enough!" I've spent enough time.
On goes a pad and then a saddle.
Luke blows up like a wood tick. I'd like to give him a paddle.
Now comes the bridle, Luke lowers his head.
It goes on easily. "Thank you." I said.
I have a great ride, as I think of my Dad.
I wish he were here. That he's not,  makes me sad.
He never did see me ride my Murphy or Luke.
Didn't think much of gaited, would have found Murphy a kook. 
I think if he'd seen me ride them, he'd have been proud.
I hope a good rider in his eyes I would have been found.
So Happy Birthday Dad! This is my first cowgirl poem.
I hope that in heaven, you've found a good home.