My Brother Was Captain Bird on "Lost"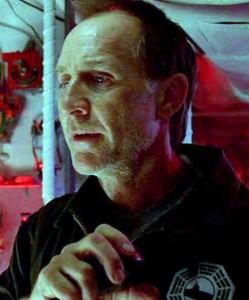 That's my brother, William Makozak, M-a-k-o-z-a-k. He played Captain Bird on the last two episodes of "Lost". I found this photo online when I did a search on his name.

I know I should have mentioned this before the episodes were on, but ya know, it's been all about me lately. Plus I didn't know when the episodes my brother was in were going to be on and how big of a part he really had. He didn't make it sound like a very big deal.
But it was a huge deal! A significant part with numerous lines (he has such a great voice) and interaction with the main characters! It was so cool! Am I like famous by association? 
I was bragging William up to everyone at work. "Did you see Lost? Did ya? Did ya? Did ya?"
So if you have the last two episodes of "Lost" tivoed or at least the last one, the season finale, where he has the biggest part – close to the beginning of the show, you should check it out.
I am so proud! Can you tell?!