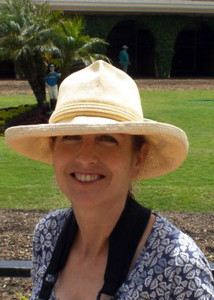 When I was in California, four of us went to the Del Mar track to watch a few horse races. This is my attempt at the whole wearing a hat to the race track tradition. And yes, my fancy necklace is my camera strap.
I am happy to report that no horses or jockeys were injured during the races that day, which is always my fear and why this was only the second time I've been to a racetrack.
I don't know enough about racing to judge the right or wrongness of it one way or the other. I was with people who do know horse racing,and I agree with their arguments that racing employs a large number of people (jockeys, exercisers, grooms, stable hands, trainers – just to name a few), it makes money for the state, and race horses are athletes — they are bred to run. The part that gets me is that other athletes can break a leg and it might end their career but it doesn't end their life.
But I had an amazing time at the race track! The horses are beautiful. The people are interesting — both the spectators and the participants.
I found it especially intriguing to watch the interactions between jockeys and horses, the people who pony the jockey and horse to the start gate, the owners and their horse, the handlers that lead the race horses around, and all the other people involved in the sport.
That's what I tried to capture in my photos and since I liked so many of them for that reason, I couldn't choose just a few so I prepared a slide show instead. A silent slide show seemed wrong so the music background is my niece
Sonora
singing one of her own songs. The words don't exactly fit the slides but I figured she won't sue me for not having a licensing agreement. Will you Sonora?
But the song words do magically fit with a couple scenes, lines like:
"Let's put a frame around this moment," "Wearing my heart on my sleeve," and "I want to know what it feels like to walk on air."
I hope you enjoy the photos and the music. Like I said, the horses are gorgeous animals — the motion and the look in their eyes on some of the closeups really gets to me. And the people. Notice their expressions and the intensity of some of the moments. An amazing thing to witness and try to capture.