Oh, the Weather Inside is Frightful
My furnace blower stopped working last night. I got it going again a couple times by manually spinning the blower fan, and then turning the furnace back on again. This was repeated everytime the fan tried to turn back on (often). Sure I could have left the fan on but what fun would that have been?
All that fan spinning worked up an appetite. I need to stop cooking so much if I ever want to take off those extra holiday pounds…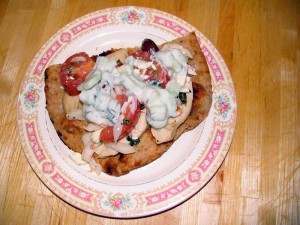 The sticky fan is probably what caused the motor to overheat and finally give up the ghost. I could have just replaced the blower unit and prayed I got a couple more years out of the furnace, but there were a few factors that kept me from going that route – the furnace's age, it was the original "cheap route" builder's model, and the insides appeared to have had a number of attempts of jury rigging the furnace to keep it going. The wiring looked like something my Dad would have done.
By the way, because I know you'll get a kick out of this, the Urban Dictionary defines jimmy rigging as "a more intense version of jury rigging. A jury-rigged device will probably work, but be careful; a jimmy-rigged device will probably NOT work, but oh well."
I do like to make sure I'm using words and phrases properly.
Anyway, I ended up with a new furnace. Isn't it beautiful?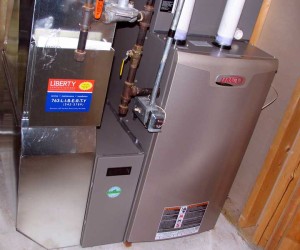 Come on! Let me hear the ooohhs and aaaahhs!
Since this little necessity means I can't buy a queen bed for my guest room, skate skis (I'm sure I'd never fall on those), a different saddle for Luke, a kitchen range with a functioning oven, or a much needed vacation in Maui at my brothers house, this is my purchase of the year! Yeh 2011! Too bad the thing didn't die in 2010 when I could have received a tax break for energy efficiency.
I will be dragging all my house guests into the furnace room to admire my investment. I may even put up track lighting to accentuate the furnace's shine.
The positives on this little unplanned expenditure is that I will get a rebate from the gas company, the mid-range model I was going to buy was out of stock so I got the top-grade model at the same price, the business owner got my fireplace remote control working and didn't charge me for the four AA batteries (SCORE!) he replaced in a hidden box that I didn't even know took batteries, and I got these cool lightup plastic wine glasses (great for around the campfire) and bottle of Shiraz, which I may drink tonight to ease the pain.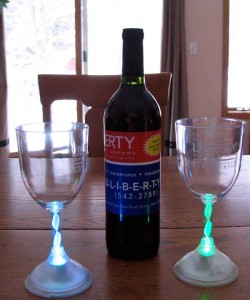 Speaking of pain, I had my thumb and clavicle x-rayed today to makes sure I didn't actually fracture anything skiing. Thumb is strained but no broken bones. Left clavicle is separated from my sternum but there's nothing they can do for that; it will get better on its own. The x-ray technician got a little confused by my eight-year-old collar bone break on the right side, "Which side was I supposed to x-ray?" she asked.
At least it's obvious that I'm not just sitting around watching TV and surfing the internet.
Speaking of TV, I've disconnected my cable television and am operating on an antenna now. I can actually get more stations and HD by using an antenna, than I could get with the basic cable service. I still have cable internet service that I use with my Roku to stream Netflix onto my TV. I am so down with the technology…
That little change in cable service will save me $500 bucks a year! Combine that savings with the gas and electric savings I'm supposed to get with my new furnace and I'm sure I'll even up what I paid for the furnace in — um, ah, hmmm, oh, never mind.
Oh, yeah, and to top off my morning, after I backed my truck out of the garage to go to the clinic (truck used because of yet unplowed roads from yesterday's snowstorm), the garage door wouldn't close. I had to pull the rip cord on it. I'll work on fixing that after I finish my bottle of wine.
So how was your day?