I have always been delighted at the prospect of a new day, a fresh try, one more start, with perhaps a bit of magic waiting somewhere behind the morning.
— J.B. Priestly (1894-1984) English Author
Today was a good example of a day when I should have ignored the weather peoples. I listened to their predictions and killed my plans to go riding. I shouldn't have.
When I took Java for a walk, I discovered that it was not "frigid" out. (I bet a few of you thought this was going to be about something other than weather. Ha!)
In reality, it was warm enough out that I could keep my mittens off for extended periods of time to give Java treats for checking in (making eye contact) on our walk and to take photos of the fresh snow.
Shadows walking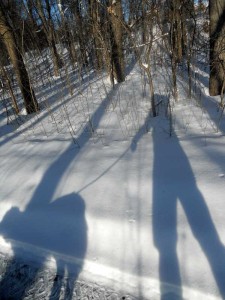 Java was staring intently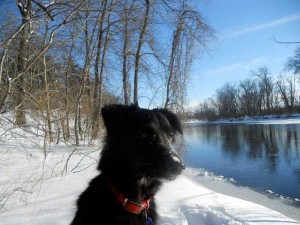 At a red balloon trying to free itself from the icy shore.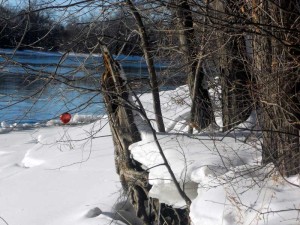 I happened upon what looked like a busy intersection, used by deer and other animals to cross the river.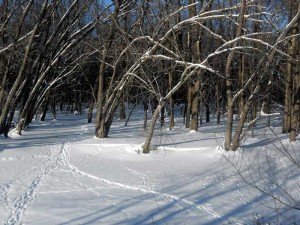 Java took a contemplative break, waiting for me to get moving again.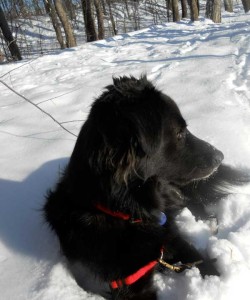 When Java and I returned home, we curled up on the couch to watch Xena reruns. I recently, started watching Xena episodes from the beginning of the first season. I'm on a personal Xena quest, somewhat of a pilgrimmage.
Yes, Maeryland could also use a courageous hero. I have more in common with Gabrielle, Xena's sidekick. Towards the end of the last Xena episode I watched, Xena was talking to Gabrielle about how the path you take in life can change you.
Xena said, "See how calm the surface of the water is? That was me once."
Then Xena throws a rock into the lake. "The water ripples and churns. That's what I became."
Gabrielle replies, "But if we sit here long enough, it goes back to being still again. You can go back to being calm."
Xena answers, "But the stone is still under there. It's now a part of the lake. It might look as it did before, but it's forever changed."
True, but I think that stone at the bottom of the lake can take on too much importance. I'm finding that defining myself from old life stories places too many limitations and outdated beliefs into my current life and what I'm capable of being or doing in the present.