Seasickness, Riding, and Theatre
I took yesterday off from work. I've got some vertigo thing going and this has made me feel like one of the characters on "The Perfect Storm". I just want to batten down the hatches. 
The dizziness and nausea are usually worse in the morning, so after being up for a few hours and acquiring my sea legs, I loaded up Luke and spent two hours riding in the Rum River park. 
Luke and I have gotten darn good at this whole routine. We are both getting more and more relaxed about trailering and about being out on our own in the woods. I was even able to carry on a phone conversation with my son while trotting up a couple hills and dealing with a jogger and her dog putting Luke on high alert. At least Luke is not a bolter. When he's surprised by something, he kind of flinches or jumps, but he doesn't go anywhere.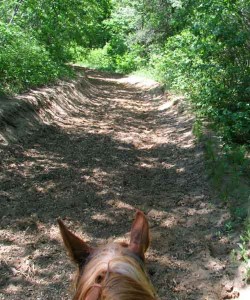 I found two good areas to canter in the park, nice and straight, flat, and soft footing. The first stretch Luke did more of a flat out run, which was kind of fun. In my younger days, I used to do these runs jockey style and go over a couple logs to boot. I still like speed but Luke really needs work on a nice controlled, balanced canter and that's what we managed in the second stretch we ran in.
It was such a gorgeous day! One of those days where you look around and marvel at how beautiful everything is and how lucky you are to be out enjoying it. It's times like those that I feel God's presence in my life most strongly. Unfortunately, when I arrive back home and face the laundry, messy kitchen, paperwork, and all the stuff that should get done staring me in the face, I lose that sense of peace and good-will toward men. Sigh…
Deep breathes Mary, that's it. Reeeellllaaaaxxx…
I just thought I'd update you on my bread making progress. I'm on my second batch of dough and this time I added rosemary and thyme to the dough. It added some nice flavor and I think my loaves are looking a little better. The inside of the bread might be a bit too dense. It still tastes good but I'd like to see if I can find a way to make it more airy. Plus there are variations you can do with the shape of the loaf, which I think I'll try before making the leap to trying to mix in other kinds of flour, like whole wheat, which can make a huge difference in how the loaf turns out.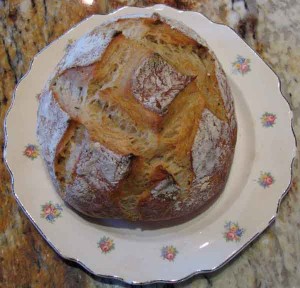 I've always liked science, and making bread, or any kind of cooking sometimes feels like a chemistry experiment, at least when I do it. Especially since I rarely have all the ingredients for the recipe on hand and tend to supplement or skip ingredients. I've started to wise up and jot down in recipes when I make changes so if by rare chance it does turn out well, I can try and repeat what I did.
Yesterday, Lynn and I went to the Yellow Tree Short Play Festival as part of her birthday celebration. Yellow Tree Theatre is a little-known, small, local theatre that is close to home and opened about a year ago. It's a great discovery since most the theatre is far from home and can be pretty expensive.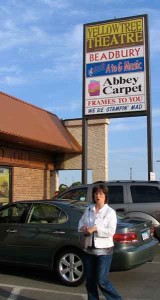 Okay, so the strip mall ambiance might not be the best, but the inside was cute and the plays we saw were excellent.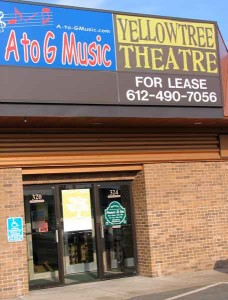 What Lynn and I went to was kind of an open house thing, with 7 short plays. Their titles are on the yellow flyer in left side of photo. Oh yeah, the photo. I tried to remove the background. I think it's a nice, arty effect…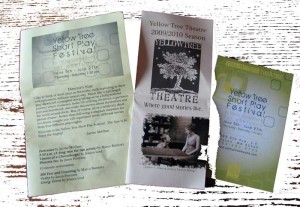 Most of the short plays were based around the sad state of the economy – foreclosures, homelessness, unemployment, etc. Sounds bleak, but in much the same way I like to do, they depicted something sad and disturbing in a humorous, entertaining way. Like the first play about a young couple losing their home and spending their last night in their house playing around in the living room, pretending to be Lord Fartsalot and Lady Sextitillating (or something like that).
We were given a microscopic piece of desert after the plays that was dreamy, a lot like tiramisu only with a lot of rum in it. Yummm! We could have also had a complimentary splash of wine, but I'd already had a glass of Pinot Grigio during the play, and what I needed was a cup of espresso to wake up (only 4 hours of sleep Thursday night).
Today it's chilly and rainy out. I'm hoping it rains all day as we only had about a half inch of rain during the whole month of May and sorely need some moisture. 
I took a couple videos of Java the other day and I hope to figure out how to edit and post them in the next couple days. Do I have you sitting on the edge of your seat in anticipation?!