My son called me yesterday and has assured me that if I lose my job and have no place to go, I can move in with him in Oakland. Wouldn't his roommates love that? But what a sweet thing to say! He figured that Luke could stay in the fenced backyard. No one would notice.


He also told me how beautiful and young I look, that all his friends say so too. What a wonderful, amazing son I have.


And he thinks he has enough money to fly home and go with me on my dream road trip this Spring. I am really excited about the prospect of my son, Java, and I hitting the road. I didn't mention the camping piece to him, but I'm sure he won't mind…


I love my son. I am one lucky Mom.


It has been darn cold here and they are predicting temps of 30 below for tomorrow. Lord, have mercy.


Cleaning stalls, hauling out manure, and emptying and filling buckets of water in those kind of temps is truly a test of endurance. Heck, it's a test of will versus want just to make myself get out of my nice warm bed.


I wanted to give you an idea of how fashion is utmost on my mind, even in the most frigid weather. I don't have any recent photos of my winter wardrobe so these from 6 and 7 years ago will have to do.
Cleaning stalls on a balmy day (no coat) in my camel toned Carhartts. Note the hat with a hole for my pony tail. Very sheik.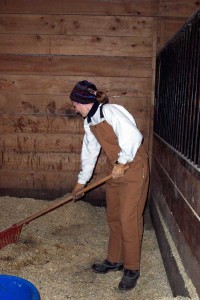 Taking a Shy (the cat) petting break.
You are envious of the hat, aren't you?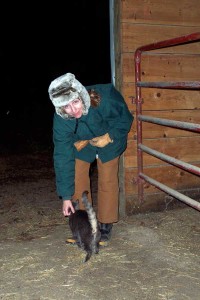 I think I'll be wearing my Mom's old muskrat coat tomorrow. Very, very warm. I now have a Russian looking hat with a black rim and leopard print top that I think will nicely accessorize this coat. I'll round out the ensemble with my new spotted, furry mittens.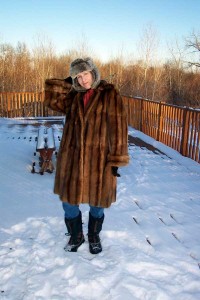 Riding during a nice, fluffy snowfall. For this type of activity, to enhance my mobility, I like to wear men's coats that make me look like I have a hump back.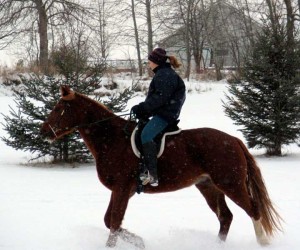 Hope you are enjoying whatever weather has come your way!