Skijoring We Will Go (eventually)
I've been very busy this week. I actually went out to dinner with friends two evenings in a row. Gasp!
Today, Java and I tried to find some Christmas presents for people in obscure little stores because I can't stand the crowds. I am still doing horrendously on the gift hunt.
So in frustration, Java and I selfishly went to Midwest Mountaineering and Java got to hang out with the customers, got fitted for a skijoring harness and line, and got a doggy treat every time she sat nicely and didn't jump at people.
I didn't get a skijoring belt for myself because it was going to add $40 more to the gear. The guy who helped me was extremely nice. He gave me a clip to connect the skijoring line to whatever I can rig up for a belt. Maybe a fanny pack?
Java looking suspiciously at the rigging.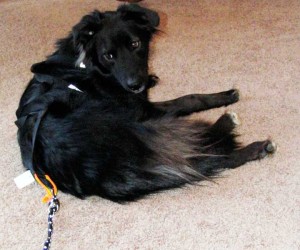 Anyway, I'm already struggling with having Java get used to the feeling of the line running to the ring on her back and getting her to walk straight in front of me. It's almost like she doesn't trust me behind her…
But we were trying out the harness and line in the house and she might be more enthusiastic and forward moving outside. Gosh, looking at the photo below, I realize I should have gone for some color on the harness for my little diva.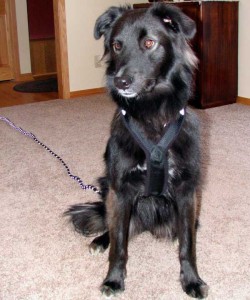 I worked with Java on the forward and whoa commands this morning, plus we threw in a spin command, which won't be useful for skijoring but looked fun when I saw it on the Champion of My Heart blog. Java did much better picking these commands up than I expected.
Java also got some boots for her paws that she tries to take off as soon as I put them on. I just bought very cheap lightweight ones to get her used to having something on her feet. And like the harness, they are black so it will be hard to notice if one falls off.
I imagine I'll need boots with more grip and insulation eventually. The ones I bought will only help with keeping the snow from clumping between her toes.
Now I just need skis, boots, bindings, and poles for myself. That's all…