Sunday afternoon, I headed to the Nowthen Threshing Show, where I met up with my cousin A and her husband B. They arrived on B's Harley. It's so fun to see my cousin decked out in leather! I'm working on convincing her she needs a biker babe t-shirt.
I caught the tractor "Parade of Power" at 2:00. Here's the tractors lining up before the parade.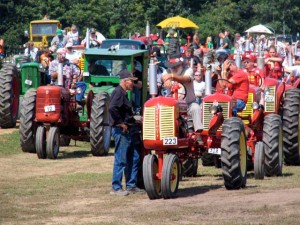 There were all sort of old tractors. John Deere's of course, with their distinguishing bright green and yellow colors.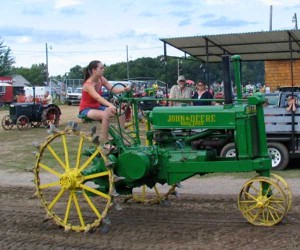 Some of the other tractors looked every bit their age as they clanked and rattled along the parade route.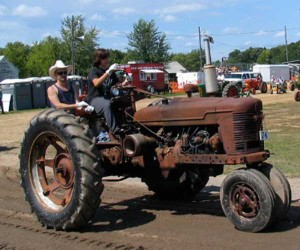 There were also classic Fords, with classic farmers.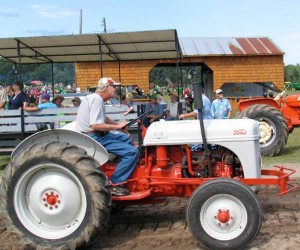 Some large steam powered tractors.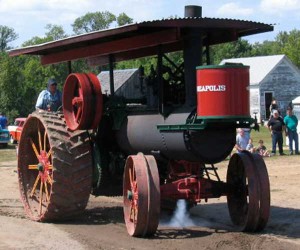 I'm partial to the red tractors.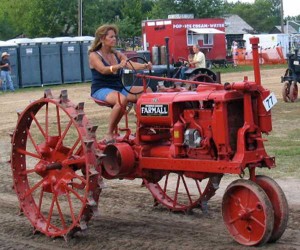 This one looked more like a tank than a tractor.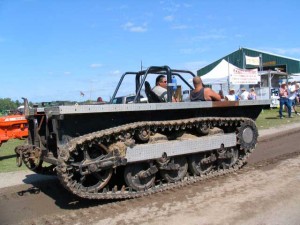 Some tractors were driven by children.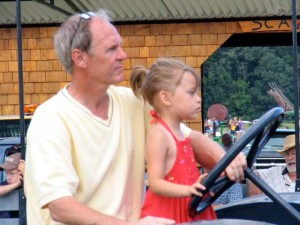 While others were overseen by dogs.
There were also old cars at the fair grounds. I wonder what these guys are looking at? Appears to be pretty darn fascinating.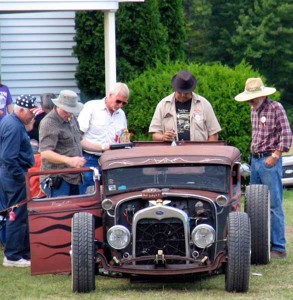 This guy reminds me of John Belushi.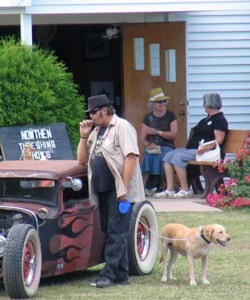 There was also music and square dancing.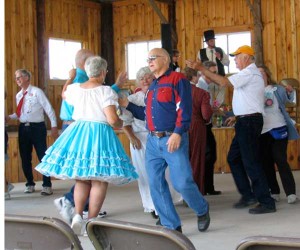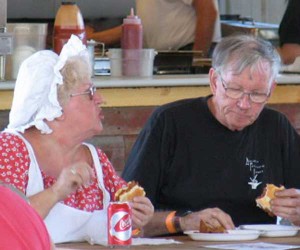 There were ox plowing demonstrations. I'm wondering if oxen are in the habit of biting because they appear to be wearing muzzles. This one did look a tad miffed at the driver waving his hand in his face.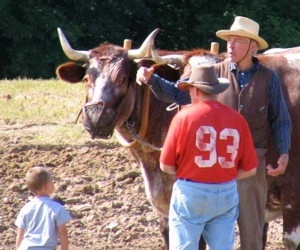 B was telling me that his Dad plowed with horses with a similar rig because that's all they had to plow with. Cousin A and I went into some of the buildings that showed what pioneer homes and stores were like. It was kind of funny because A and I were looking at the stuff and thinking we'd seen a lot of these things before as children and this was supposed to represent pioneers? Wait a minute!
Anyway, I learned that this contraption, that I got from my Mom's house, is a potato ricer. I'm still not sure how it works.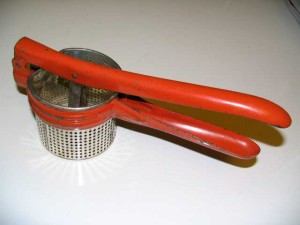 Now if someone could just tell me what these things are…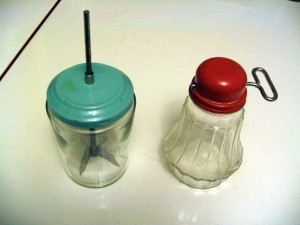 We also learned that when A's grandpa drank turpentine, he hadn't lost his mind but that turpentine was considered medicine in those days.
Yes maam, I got me some educatin' along with having fun spending some time with A and B. Hopefully, A and I are going to hit the state fair together in the next couple weeks, if we can coordinate our busy schedules…
For your final piece of entertainment, check out this video of freestyle dog dancing. I can totally see Java getting into this! She certainly has the enthusiasm down pat. I wonder if she could go dancing at the bar with me then…