My First Christmas Purchase
Last Friday I met with Lynn and Sue to visit and spend some time writing.
Afterwards, Lynn and I went to a couple shops. I bought this great purse at Krista Artista in the store's red and green boutique area. Part of the proceeds from items that sell in that area of the shop are going towards paying for cateract surgery for Diesel, a 2 year old rescued yellow lab that Krista adopted. He needs the surgery to prevent permanent blindness.
So I ended up with a great purse and I can feel good about buying it. Right? A valiant attempt to justify purchase for self at Christmas time…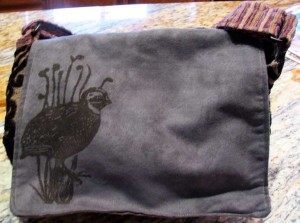 Speaking of animals with physical disabilities like blindness,
Dream Valley Ranch blog
has posted a video on Rolling Dog Ranch, where they take in disabled animals. Some of the animals are disabled because of abuse, which is something that tears at my heart.
I also like the work that
Best Friends Animal Sanctuary
does with difficult to place animals and animals that have medical problems that no one else wants to or is able to handle.
I know many people think that with all the human needs in the world that we shouldn't waste our resources on animals with special needs. But I believe there's enough people resources on this earth that we should be able to meet the needs of both people and animals alike.
Some people are gifted in working with animals while others are gifted in working with people. One service is not more honorable than the other.
And human and animal needs are not two completely separate things, considering that many rescued dogs end up being used as therapy animals or assistance animals.
I think caring for an animal can be such good medicine for us human beings. Animals do so much to help people with their emotional and physical needs without even trying. If nothing else, being responsible for a pet gets you up in the morning and hopefully gets you outside to enjoy some fresh air and get some exercise. Well, unless you have a cat. They are so darn self sufficient.
I think Java deserves the title of Maery's therapy animal. Supposedly I rescued Java, but she really rescued me, even if she does look a little loony at times.