Part of Hay Mission Accomplished
Oh my Lord. I can barely see the computer screen I'm so tired!
I found hay but then I was worried about depending on 100 bales of hay from someone I've never bought from before. So I worked at home this morning for awhile, then drove out to look at the hay.
The guy was filling containers with diesel fuel when I pulled up and running water to fill his cows' water tanks. He'd just turned on his tank heaters, as had I, for the first time last night. It's going to stay below freezing for awhile. I guess we should feel lucky that we made it through November without having to suck up all that electricity.
The hay turned out to be very nice 50/50 grass alfalfa mix, something I'm much more comfortable feeding than the high alfalfa stuff I'd gotten in my previous batch, which has been giving Luke the runs and you have to be so careful so they don't founder. I didn't realize that alfalfa will grow despite dry conditions, whereas grass won't, which is why it's been so hard to find grassy hay this year as we started out so dry.
The farmer loaded 20 bales into my pickup bed, which I drove home and unloaded. Do you know how hard it is to back into a narrow barn isle with hay stacked up so you can't see out the back window and it's so dark in the barn that you can't see very well anyway?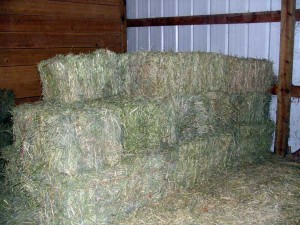 As I unloaded bales, I tried to remember what my physical therapist told me about "setting my shoulder" before I lift or push something heavy. Which means I need to remember to push my shoulder back and draw my shoulder blades together and keep them that way. I tend to let my shoulder drop forward, which is how I end up hurting myself. I only ended up feeling one big back spasm when I tried twisting and tossing bales, so I went back to just dropping them from the truck, then picking the bales up and stacking. Saturday I'll get the other 80 bales.
I asked the hay farmer if he knew any horse boarding places and he gave me the name and phone number of a woman that buys hay from him. Sounds like a really nice place with stalls and a heated arena, maybe too nice and beyond my budget but worth checking out. Even nice places out where I live now are cheaper than the crummy boarding places in the fancy horse area where I used to live.
Since I had the truck unhitched from the trailer, I decided to pick up ten bags of horse shavings. I was completely out of those too.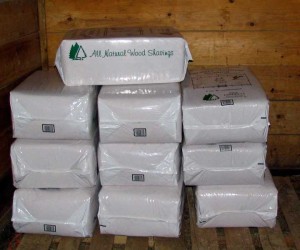 We started to get a little bit of snow flurries but that's about it. I want snow! We need snow so the underground water lines running to the barn and the septic system don't freeze and to protect the hay fields from freezing out. Well, and so I can ski and snowshoe.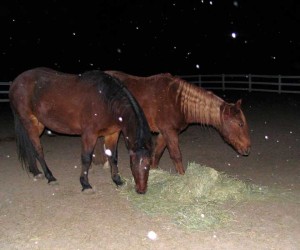 After I finished my regular paying job and had dinner I did a load of laundry and dragged the Christmas tree upstairs and got as far as putting on the lights before I pooped out.
I put the Mini and Truck to bed. I think I should do the same with myself.