I was given more exercises for my shoulder and pretty rubber bands! One is yellow and the other is red. They look kind of silky, and I'm thinking I can use them as colorful scarves when I'm done with the exercises.
I need to work on my scary Bandito facial expression.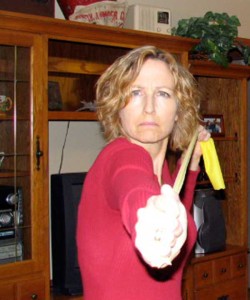 I love the model they used for the exercise sheets. I showed a few of them to my boss who has a similar hair issue. I told him he could have a whole new career as an exercise model. My boss didn't think he could pull off the tight shorts.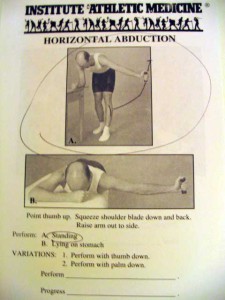 I wanted to ask my physical therapist about my knee, but it's so busy there and I suppose the physical therapists don't want to talk about an injury and recommend exercises for something a doctor hasn't looked at.
I think I tore or strained the tendons that run on the outside and back of the knee and also my calf muscle. Those are the places that hurt. Just so I can still snowshoe and ski this winter!
I've got 29 pages or 7913 words. I'm still doing things to define where I'm going – conflict, foreshadowing, turning points, blah, blah, blah. But I'm writing little scenarios as they come to me.