Things I Ponder from Grey's Anatomy
I'm catching up on my recordings of Grey's Anatomy. I'm learning so much wisdom from the philosophizing at the end of each episode.
"Invasion"
A couple weeks ago, when Izzy Stevens was being fired by Richard, she sobbed,

"Please don't do this to me. Please don't take this away from me. I don't have anything left."
The scene with Izzy is followed by Meredith asking,

"What do you do when the infection hits you, when it takes over? Do you do what you're supposed to and take your medicine? Or do you learn to live with the thing in the hopes that someday it goes away? Or do you just give up entirely and let it kill you?"
Nothing makes you feel like a failure or like you've lost everything in quite the measure that being dumped in an unwanted divorce does. As you recognize that your spouse no longer loves you and that worse yet, he now loves someone else in the same way that he used to love you, you feel so insignificant, so easily forgotten and replaced.
I wanted to, well, actually, I did, scream at Izzy, "But you still have Alex! You have something left! You have Alex!"
But when these losses happen, your first reaction is to feel like you have lost everything, including yourself. But as time goes by, you realize it's not true. You haven't lost everything. Not by a long shot. You are still a whole person, or at least, you will be when you've had some time to heal.
And you have a lot on the ball. Maybe more than you did when you did have "everything".
"I Saw What I Saw"
The next episode of Grey's Anatomy that I watched was about the complicated process of diagnosing and treating sickness and injuries and the mistakes that can occur.
Meredith says,

"Sometimes the answer we get just confirms our worst fears and sometimes it can shed new light on the problem, make us see it in a whole new way. After all, the opinions have been heard and every point of view has been considered. You finally find what you were after — the truth. But the truth isn't where it ends. That's just where you begin again, with a whole new set of questions."
I don't know the truth of what happened to H and me. I probably never will. But I'm discovering what's true for me and what was just bull.
Yes, it is only the beginning. Because the truth isn't constant or absolute.
What I search for is to see and experience everything that exists in this moment — because each moment is unique. If you miss it, you miss it for good.
"Give Peace a Chance"
The sound of this episode cut out towards the end of the recording.
But the show was about Derek doing an impossible spinal tumor surgery that he was ordered by Richard not to perform. Derek was supposedly fired, even thought the surgery was successful.
Derek's followup thoughts were that

"Peace isn't a permanent state. It exists in moments — fleeting — gone before we even knew it was there."
The rest of what was said was garbled but was something like this,

"We can find peace in the comfort of an old routine. Or when we finally let go."
The letting go part is kind of like what I said about finding peace in my previous post.
And although I recognize peace isn't a permanent state, I disagree that it's gone before we even know that it's there. I for one, recognize and rest in those moments of peace, whenever they occur.
"Maery's Injuries"
I was hoping to go trail riding tomorrow but the weather report is making Saturday sound pretty nasty. Sunday might be better, but I do need to get my writing time in. Writing, riding — they're so similar — they're both about noticing what's around you.
I'm going to go soak in Epsom salts and see if it helps out my knee. I'd like to take Java for a walk tomorrow since between the ugly weather, having it get dark so early, and my limping, she hasn't been able to run off steam for awhile.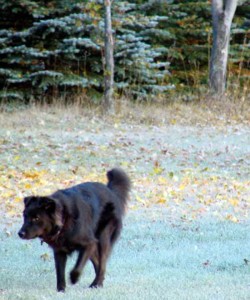 If I keep my knee fairly straight, it's not too bad. I just have to protect it from bumps, turns, and bending — that's all.
Might end up with another doctor visit next week but the co-pays for doctor visits and physical therapy to work on my shoulder are killing me, almost worse than the pain. But it will be worth it if I can avoid surgery.
With the knee, I'd just like to know I'm not making something worse by taking walks, and I'd like to work out on the elliptical when I can't get outside. I'm good at ignoring pain, but it's not always the best course of action.
I wonder what McDreamy would recommend…