Yes, I can certainly tell that it's almost Halloween. The gremlins are out and they seem to have something against my mailbox about this time every year.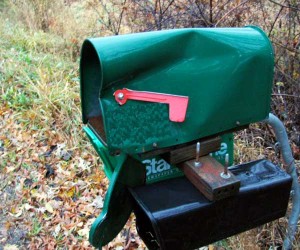 Although, it's not just me. All the way down the road, there were other dented mailboxes and some must have been knocked clean off as they were bungy-corded back onto their posts this morning. What can you do?
And of course, it's raining again. Me, when I'm stuck in rain traffic, I like to take rain photos. Well, I was at a dead stop, at this point I'm accelerating.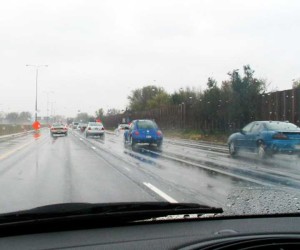 How about the car in front of me? Or is it a cruck (car truck hybrid)? I think it was an El Torino but I thought if they had a truck bed they were La Rancheros. But what do I know. You can see I have my GPS going just in case I get lost while taking photos.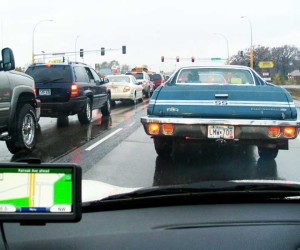 My posts may be few and far between as I gear up for a month of novel writing. A few of you have expressed your wishes to write a book someday. You guys are great writers so I say, go for it!
I have a book that I'm using in this endeavor called, "Book in a Month" by Victoria Schmidt, Ph.D. Besides giving good advice about writing, I think some of her advice could be applied to just about any area of your life. I was reading about resistance today and it says:
"Taking a risk implies loss of control; otherwise there would be nothing to risk."
"Most of our writing blocks come from lack of self-trust… We wouldn't get upset, worried, angry, accusatory, or anxious if we trusted ourselves to deal with whatever might come up, in any situation."
I think I'm going to be learning about a lot more in the month of November than just about writing a story.