I Don't Think I Broke Anything
Like I said in my last post, Sue, Lynn and I are all taking a little different spin on what we want to accomplish in our November novel writing adventure.
As I understand it, and I'm sure they'll correct me if I get it wrong, Lynn wants to get as much written as possible but because she freelances, she might have to work on an assignment and that would cut down how much she could get done on the novel. But she's shooting for finishing.
Sue has a major story already in progress. She's been so busy welding her art for shows and sales that she hasn't been able to write as much she'd like to. Sue's main goal is to take the opportunity to focus back on her writing and hopefully, get back in the groove.
By the way, it's Sue and her husband's 16th wedding anniversary, 26 years if you count the 10 years together before they made it official. She wrote a wonderful post about how they hooked up and what's made it all work for them. Gives me hope that there are great relationships out there. I just need to find the right match. It sounds so simple, but I know it's not.
Oh, yeah, my goal? I have started at least three books and many short stories. I'm good at starting. Not so good at finishing. And even if I finish something, I'm reluctant to submit it anywhere which kind of defeats the whole purpose. I mean, I love writing, but I hate the business part of it — the submitting and trying to sell yourself. And of course, I hate the rejection that inevitably comes when you submit your writing.
So my goal is to establish a pattern of writing everyday and to plow through an entire first draft without allowing myself to stop, over-think things, get frustrated and discouraged, and give up. I'm going to do this if it kills me! And Sue and Lynn are going to help make sure that I stick with it.
Speaking of killing me, I seem to be hell bent on self destruction lately. Check this out.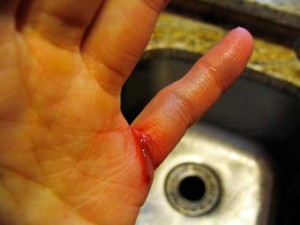 Okay, please do not tell me what an idiot I am. I already know that. I climbed on top of the workbench in the garage to try to capture a photo that showed how humorous the Mini looks parked next to the truck in the garage.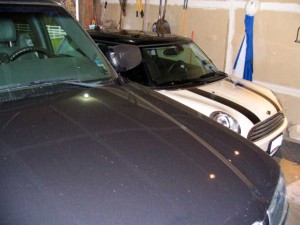 This view didn't quite do it so I was trying to reposition myself, when I tripped on something and fell to the cement floor. I am definitely not going to be hired by National Geographic to capture action shots in Africa. Sheesh! But my camera might not be as bad as I thought it was because it's still working after taking the tumble with me.
Beside the split open, turning purple finger, which is attached to the hand that is attached to the arm that is attached to the injured rotator cuff, which is now even more screwed up; I also smashed the side of my right knee into the floor. It now hurts to walk or bend my knee, and I'm struggling with stairs. But I still cleaned the stalls and hope to take advantage of the sun making an appearance tomorrow by hooking up the trailer and going trail riding. After all it will be my good leg that I need to put in the stirrup and push myself into the saddle with.
It's kind of funny, in a sad way. I've been telling people, "Well, at least I have my health."