Sports Cars and Paris Dreams
I had a wonderful lunch with my friend B on Tuesday. She picked me up in her little, red Miata. I don't think I've ever ridden in a convertable before. It was fun! I was hoping people at work saw us drive away.
I always look forward to seeing B. She totally gets and appreciates my quirky sense of humor and accepts me, whether I'm manically happy or regretably cranky. And I do the same for her.
B is also the person responsible for getting me to apply for a writing mentorship in the year 2000, which I was accepted for. I would have assumed I wasn't good enough and never would have applied without her encouragement.
B is my traveling, always on the go, friend. Her next destination is Paris! I am so excited for her. She's been there before, but still! People have told me how completely rude the French are and that they never want to go back to France again. Hey, I'm used to being treated rudely. I probably wouldn't notice.
I want to see for myself what Paris is like. I want to visit museums. Sip coffee outside a cafe, while I write in my journal. Buy fresh bread, cheese, and fruit at an outdoor market.
Try on some things at an upscale boutique then hit the thrift shops, which I hear are awesome in Paris.
Sit by the Fontaine de l'Observatoire with my sketch pad and draw the fountain or people passing by.
Maybe even have a fling with some handsome French guy who will whisper sweet things into my ear which will sound all the sweeter when said with a French accent.
I want to drink large quantities of French wine! And drive a Moped on French streets! Well, not at the same time, of course.
I want to experience all the romance and adventure that you see in movies filmed in Paris.
Everyone should have a chance to either fall in love with or thoroughly hate France!
Yes, visiting Paris is another thing to add to my list of things to experience before I die. I actually have on my list that I want to live for at least a summer in another country, to truly experience what it's like to live somewhere else. Maybe Ireland or Spain. Kind of a lofty goal for someone who's lived in one place all her life. Maybe I should shoot for just living in another state for awhile first.
By the way, while I work on Java's kennel, I did find a more comfy way to keep Java's damage down to a minimum. My brother helped come up with this barricaded hallway arrangement while he was here.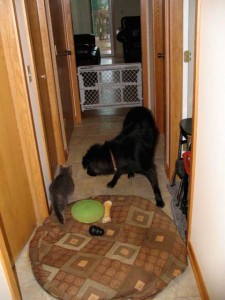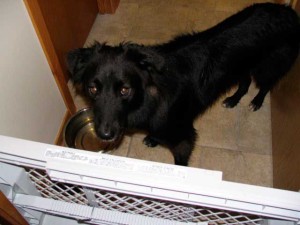 I tried to finish up the kennel tonight but the mosquitos forced me inside. Only about six more wire ties to put on to secure the fence to the frame. I think I'll put Java in the kennel while I clean up the stalls and paddock tomorrow to start to get her used to being in there.
After work tonight, I was going to clean stalls and finish the kennel but Java and I really needed a walk. I actually ran the first part of the trail to burn off some stress.
I trained 45 people on Monday and another 30 today. I've got about 12 more to train on Friday. Then a week to prepare to train about 150 more people in a span of two days. It's times like these that burning lungs from running actually feel good.
I should be able to relax a little again by mid-October.
But in November… well, I've agreed to join a couple friends in the NaNoWriMo challenge. That stands for National Novel Writing Month, where you agree to try and write 50,000 words in one month, which is equivalent to the first draft of a novel. I don't know what I'll write, especially since I don't write fiction. If your non-fiction sounds like fiction, does that count?