It's a Charlie Brown Harvest
I had my first green pepper from my potted plant. My green and yellow pepper plants look pretty decent, although the yellow pepper plant is kinda short.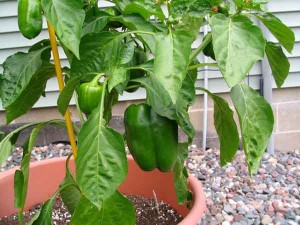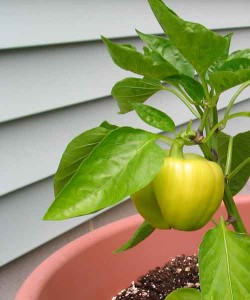 Sue from
Dream Valley Ranch
referred to my tomato plants as "Charlie Brown" plants and I think she was right. What's with the yellow, wilting leaves?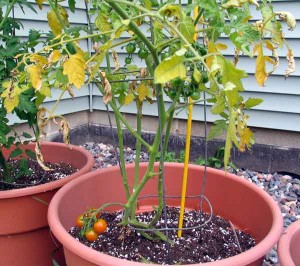 My tomato plants had leaves that looked like the plant below last year, and the tomatoes still grew healthy and abundantly; it was just the leaves that died. Of course, if we don't get some warm, sunny days, I'm not sure if very many of the tomatoes will turn red.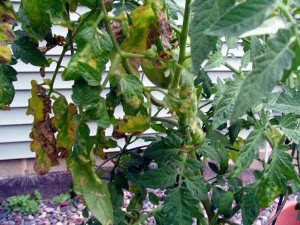 Some people have commented that I'm brave to go trail riding on my own. All the previous years of living out here, I was afraid to ride alone because I didn't think it was safe and wouldn't be much fun. It was so frustrating finally having a truck and trailer but not the friends to go trail riding with.
Of course, this summer, a "what do I have to lose" attitude got me out on the trails on my own, and I'm so glad it did. Turns out, at least for me, that riding on my own is actually lots of fun.
I can go at whatever pace I want without worrying about a less experienced rider getting hurt if I want to run or take a more challenging route. Or worrying about boring someone if I want to stop and take photos of flowers or get off and check out some interesting roots. Hey, they looked much cooler in person.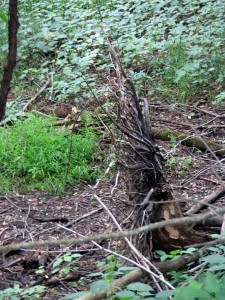 I also run into people on the trails and sometimes ride and talk with them, or just stop and converse for awhile about the trails, our horses, and what kind of bug spray they use.
On my own, it feels adventurous and daring to take a new route or explore a barely visible pathway, that perhaps only deer have taken before (at least in my imagination). My solo trail rides have also given me time to think, reflect, and dream.
And I do take precautions. I wear a helmet. I carry a cell phone, drivers license and medical insurance card. And I pay attention to my surroundings and to cues my horse is giving me on whether he's nervous and I need to sit deeper, pick up both reins, and maybe get onto a different trail.
Eventually, I'd like to have a mixture of lengthier, planned trail rides with other people and spur of the moment rides on my own. But for now, I'm enjoying the peace and quiet of my time with Luke, and hopefully, building his confidence and our partnership.