It's almost Easter and I've been feeling nostalgic. My adoptive Mom was Polish and at Easter time she made a beet and horseradish relish that we called "Kassan". I have no idea how to spell it.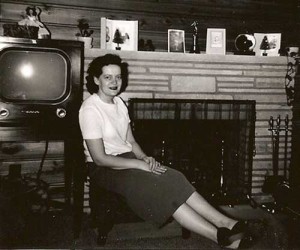 My Mom
We had this relish on our hard-boiled eggs, kielbasa (Polish sausage), ham and whatever else we felt like putting it on. That's my Mom's old recipe book and the ingredients I used.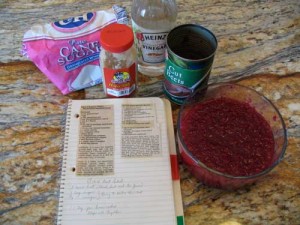 I haven't made it lately because my husband and everyone else I know doesn't like it. I admit, I don't like beets and I don't like horseradish, but I do like this relish. Maybe the sugar and vinegar make it palatable. Or maybe it's just that the relish was a tradition, and I like traditions. Regardless, I made it a couple days ago and have been enjoying it on eggs and bratwurst. 
How's this for Easter garb? That's childhood me, my brother Ed, and my cousin. I think Ed's suit is too small. He looks awfully uncomfortable. Love the hats…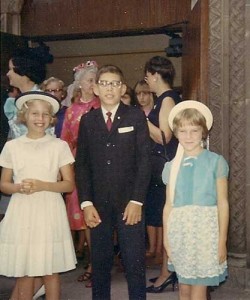 I haven't yet shown you the things I picked up in Berkeley. So exciting! At the top of the photo below is a calendar with western artwork by Jack Terry, then there's a couple used poetry books, and a silly journal with cowgirls on it. You can probably hardly see the jewelry sitting on Marge Piercy's book but there's a bracelet and earrings I received from my sister and a necklace with a horse and horseshoe on it that I received from my son. 
I bought the "10 Poems to Last a Lifetime" book because one of the poems was by Mary Oliver and I love her work. The one in the book is called "When Death Comes". I like the part that says, 
"When it's over, I want to say; all my life, I was a bride married to amazement, I was the bridegroom, taking the world into my arms. When it's over, I don't want to wonder if I have made of my life something particular, and real, I don't want to find myself sighing and frightened, or full of argument. I don't want to end up simply having visited this world."
Little by little, I'm getting back into the regular routine. Like de-hairing the dog. Found this beauty of a comb that takes out the loose undercoat, which my regular dog brush was not doing. Right after I took this photo, Java took off with the ball of hair. Nice…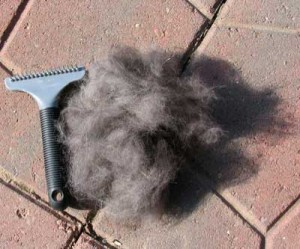 The weather has been sunny and in the 50s so I rode the horses yesterday and today. Nice look, huh?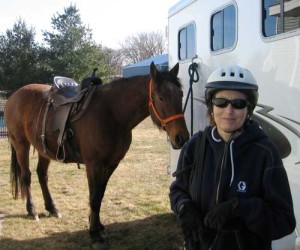 I lost my photographer after this shot but I really did ride both horses. It's time consuming having two horse to keep going but they are both so different, it keeps things interesting. 
With Murphy, who is lazy as all get out, I have to drive, drive, drive. He's a Missouri Fox Trotter (gaited) so he rides very smoothly but my legs get quite a work out trying to keep some forward momentum.
Luke is just the opposite. With him I work on slowing down and calming down. He's often on red alert with a stiff back and head high up in the air. I'll get him relaxed and loose and then the wind blows and we're right back to flight mode.
Luke is part Tennessee Walker and part Quarter Horse as far as I can tell. This gives quite an interesting gait. He can have a very high, floaty looking trot which is beautiful to watch but kind of like a jack hammer to sit, so I post a lot. 
If Luke gets nervous or I try to slow him down or collect him, he goes into gaited mode, but it's not a nice gait, it's more like a nervous jig. If he gets really uptight, he'll combine the nervous jig with the high trot and get something that feels completely spastic. His canter can be very nice if he doesn't get going too fast and start feeling off balance, which makes him run even faster. 
I have actually learned to stay pretty relaxed through all Lukes goofiness, which usually helps him. I do a lot of changes of direction and gaits, lots of loops and circles of various sizes, and if he seems to have forgotten I exist, I back up, do turns on the haunches and forehand, leg yield, and shoulder in.
Luke probably sounds like a lot of work but the thing is, it's not meanness or unwillingness. He's trying his best and his ears keep flicking back to me, trying to figure out what I want next. 
What more can a girl ask for?