If you think your whole life is going wrong just because so much of it is going wrong, then you're wrong. Mostly when things go wrong, they're meant to go wrong, so we can outgrow what we have to outgrow.
~Author Unknown
Saturday I tried to figure out how to use the hand-held GPS that I found in the house. The instructions stink, and I couldn't figure out how to "bread-crumb" my path. I wanted to use the GPS so I could do more exploring at the State Forest without worrying about getting lost. When I couldn't figure out the GPS, I tried to print out a map of the trails but it wouldn't let me set the size and it printed out too small to be ledgible. So after wasting about two hours in this futile effort, I loaded up Luke and went to my old standby trail, the Rum River.
I really wanted to explore new trails but the Rum was good. In fact, we explored a very interesting trail there. I wish I could have taken photos but the trail was barely visible, I was getting slapped with a lot of tree branches, and the ground was uneven so I had to concentrate on my riding. The trail had an "alone in the wilderness" feel that I love. Maybe I'll figure out a way to take photos next time, now that I know what to expect and Luke might not be so freaked out with feeling so enclosed by trees and brush.
Next year, I'd really like to plan a trail ride and camping trip to some place kind of remote and wild, with streams to cross and such. Maybe I'll show up in one of your backyards. But it has to be a place without cougars. I draw the line at big cats.
I did get the following photos of the usual haunts.
And I saw these shrubs along the way. The first was some kind of berry. The second is poison sumac.
There was one spot on our usual trail where Luke perceived there was something menacing up ahead and tried to swing around and head back in the other direction. When I wouldn't let him do that, he started backing up and hopping like he was going to rear.
Like I said once before, some people say you have to stay on the horse and duke this out. In my opinion, this depends on the temperament of your horse. A horse like Murphy, can be pushed through fear, because he's rather low key and the fear doesn't escalate with him. But Luke is different.
With Luke, if refusal is plain old stubbornness, I won't get off. Anyone who has ridden for awhile knows that there is a distinct difference between stubbornness and fear in what you feel under the saddle. Fear feels like a coiled spring or it can be a hollowed back. In general, it doesn't feel good.
If fear escalates to terror, you know the horse has basically lost his mind and you cannot communciate with a brainless horse that is functioning on instinct and adrenaline alone.
So I get off before fear escalates to terror, and lead Luke through whatever he's afraid of, then get back on. I may circle back and go past the scary whatever in the saddle. But only if I feel I need to reinforce that the horse has made a mistake in judgement and needs to see whatever frightened him now that he's in a better frame of mind.
With trying to take photos and drink out of my water bottle on the trails, I've been working on neck reining. Similar to the way
Paint Girl
and
Pony Girl
were uncertain about some things when they put an English saddle on their horses, I don't know anything about the proper way to teach or do neck reining.
I'm using a snaffle bit and it seems like people use a curb bit when they neck rein, but I don't know if that's necessary. Luke seems to respond most of the time, but I'm not sure if he's listening to the rein or the leg that I'm using to move him over or turn him.
Always happy to get some advice…
This afternoon, I went to my friend Sue's. She was having an open house to show her workshop and art and sell some things. It looked like she was doing pretty well on selling some small and some large pieces. You can see Sue's art on her art blog.
I bought a turtle. I think it will look great in the garden I hope to have next year. Or perhaps in a water garden, sitting on a rock.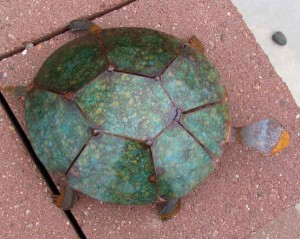 Once I get my book published and I'm rich and famous, I'm going to commission Sue to make me a horse sculpture like the one she made for herself.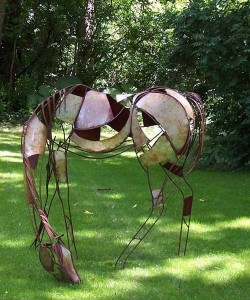 Isn't the horse a beauty? I think she'll look wonderful when I have my little cottage in the woods somewhere…