I've Been Training for This
What ought one to say then as each hardship comes? I was practicing for this, I was training for this. — Epictetus (55-135 AD) Greek Philosopher
My sister T and her husband P came to visit me from California. They arrived Thursday evening. Java rode with me to the airport. I had to drive the truck as my Mini doesn't have any leg room in the backseat. Java was a little confused about the circling thing we had to do while T and P waited to get their luggage.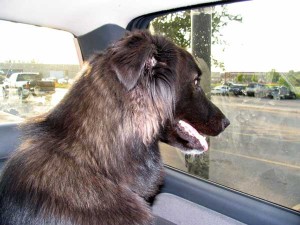 This isn't much of a vacation for T and P. They mainly came to help me out and build up my spirits. Family is sure a good thing to have! I am so thankful that they took time out of their busy lives to help me out.
P and I spent about three hours cleaning up manure and pulling weeds along the fence line. I got compliments from both P and T on my incredible tractor handling skills. I broke one of my manure forks in half with the weight of some of the stuff, but doesn't this look nice?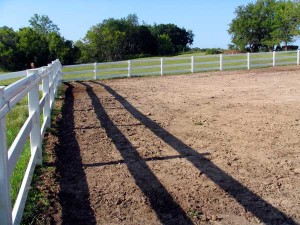 Here's some of the weeds we pulled.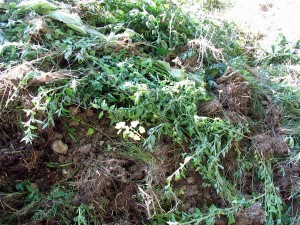 P was such a huge help! It would have taken me all summer to accomplish what we did during one morning.
These are rocks that the horses play some sort of game with, pulling them from the sides of the barn and kicking them all over the paddock.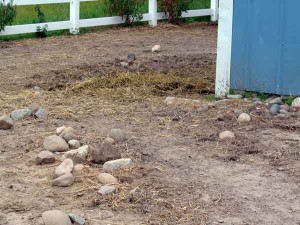 Now they are once more piled up against the barn. Come on, say it… "Boy that looks nice Mary!" It doesn't take much to thrill me.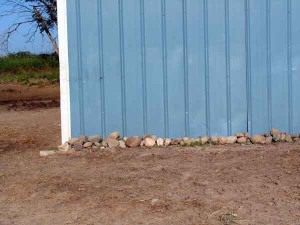 We finished picking up all the manure behind the barn. Oops. I see we missed some weeds along the run-in.
The question now is what to do with this huge manure pile? I don't have a spreader and wouldn't spread it while it's hot anyway. If I can find a low area on the property, I can maybe use some of it for fill.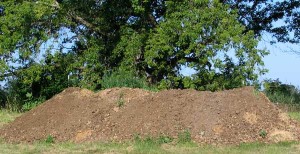 T and P also helped me sort some things in the basement into piles – things to keep, things to toss, and things to have Goodwill come pick up. I should have taken a before picture but, take my word for it, this is a HUGE improvement. Previously, stuff filled all these shelves and was spilling out every which way.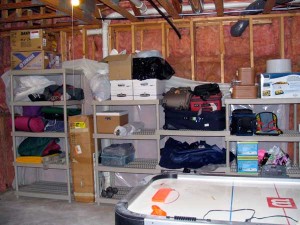 T and P have also been keeping me well fed. I've got enough food in my refrigerator to feed an army. And Java has been truly enjoying all the attention. She entertained my sister and I by swimming back and forth in the pool for about 15 minutes the other day. I think she knew we were watching. And she wakes P up every morning with a big smooch, which he greatly appreciates.
The sermon this morning at church was on patience – waiting on and trusting God while we wait. It was a good message for someone who has so much going on and changing and is not quite sure where it's all going to take her. But I am assured that I am not alone in all this. I've got plenty of angels watching over me. And I'm finding a sense of confidence that I've never known before.