The weather has been nice the last couple days. Thoughts of sitting on the deck with friends, talking and enjoying a beer, are dancing in my head. I keep trying to push these thoughts away and picture something else. But I don't have any pictures to replace them with. 
I forget that my husband doesn't want to enjoy the summer with me. Out of habit, I want to ask him what we're doing Friday night.
Our lives were so intertwined or at least his was with mine. I don't know how to unbraid it. To separate the strands and follow the one that's me. Or what's me now, with all the kinks imprinted from where he used to be.  
Is even staying in the place I currently work too hard? It feels like someplace I no longer belong, even after working there for 29 years. It's where we met. It's where we are known. Even my identity there feels so tied to him. How do I stand walking past his office and no longer seeing my pictures there?
He's made some sort of cognitive leap that I can't seem to grasp. Maybe it helps if someone is waiting to catch you, someone like he has. Someone who encourages you that what you are doing is the right thing to do. That says the things you want to hear. Someone you can dream a new life with. Someone with whom you can imagine the life you think you don't have now. A possibility.
Unfortunately, the only pictures I carry in my head of a future are his future, with someone else. The hurt of being so easily replaced. Of wondering if you ever meant anything at all because he's talking about you and your life together as if you were an old shirt that no longer fits or perhaps is a color he no longer prefers.
This is not about what he's done because I don't want to argue out or drone on about that. This is about how it makes me feel and how I'm going to deal with that and move on. 
I don't know right now. So I ramble…
My husband almost died from an illness when he was in college. He says it gives you a different perspective on life. You don't want' to waste time.
I understand that life is short, and living your life to the fullest is more important that accumulating money or things. But I don't understand not working through problems and not communicating. Not living life to the fullest with the person you married.  
I don't want to feel sorry for myself. To roll in my despair like a pig in a mud puddle. 
I'm gathering right now. Gathering my wits and trying to vomit out the crap.
So to bring a little cheer into my life and hopefully yours, I thought I'd post a couple photos that always make me laugh.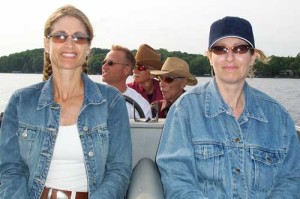 Pontoon ride – Posed every so prettily in the front is my sister T and I. In the back are my brother S, Dad, and Uncle P who are distracted by something off to the side.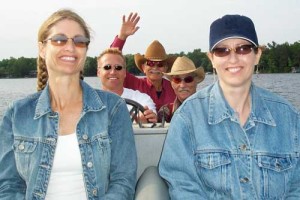 "Oh! You're taking a photo!" I love the smiles on those guys and my Dad's jovial wave. Good times…