Started out right away this morning on my manure project. The side of the barn went from this: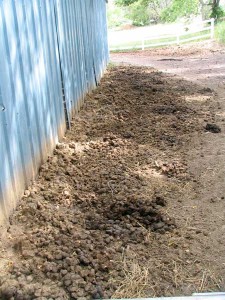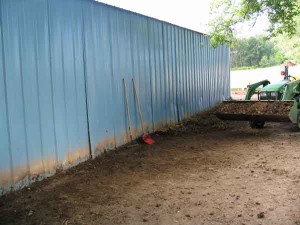 I got the worst of it done in four bucket loads. I know I said I'd only do three but that didn't even take me half way down the side of the barn. Ended up with a blister – should have been wearing gloves.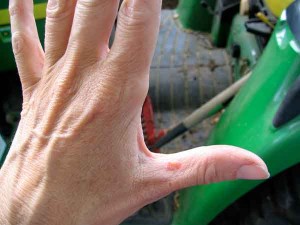 I haven't had a "happy feet" photo for awhile now. I should go to Fleet Farm and get some bright red boots or ones with flowers on them. These are a bit boring. Hardly "happy".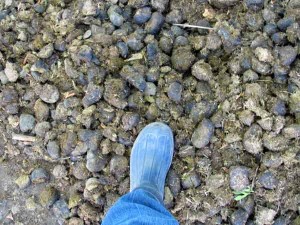 While I was out mucking, I saw these little bird-behinds sticking out of a nest in the run-in.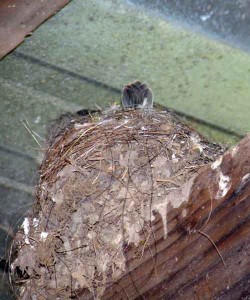 Java waited patiently for me to get done working.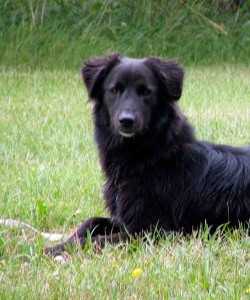 Then zoomed around with a piece of horse hoof the farrier left behind.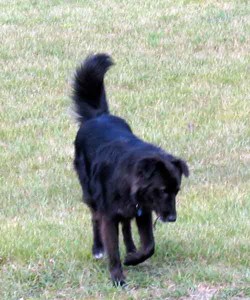 After all that hard work, I figured I deserved some pancakes and bacon. The bacon is uncured turkey, which kind of tastes like Canadian bacon. I put raspberries, blackberries, blueberries, and walnuts in the pancakes. And I actually didn't burn them for once.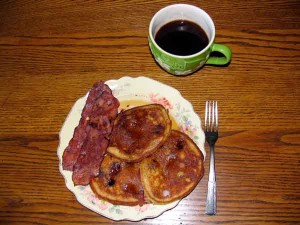 I was invited to a barbecue with some friends but I was also invited to my Aunt Fran's 90th birthday party. She's been pretty sick and my cousin J didn't think she'd make it to her birthday. But my Aunty has been telling everyone in the nursing home about her upcoming party and I think there was just no way she was going to miss it. So neither could I.
We are a happy, silly family.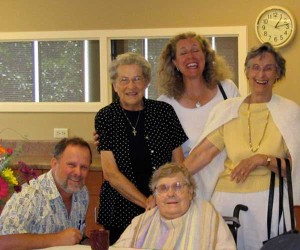 The cake was scrumptious!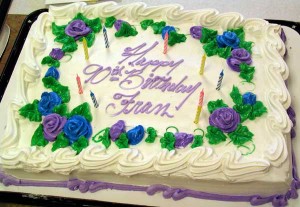 A bit of an update on my friend D and a service her family is using to communicate with everyone and allow us to communicate with her. The service is called
Caring Bridge
and whoever came up with the idea should get a medal. It allows you to set up a website where the patient or family can keep a journal of what's going on with treatment and how the patient is doing. There's another page where people can write notes to the patient and family. There's another page for photos.
Having this website is really wonderful because D has been in ICU and receiving chemo 24 hours a day, which will go on for seven days, so only immediate family is supposed to visit right now. Besides the benefit to the patient of all the supportive, loving messages that are being posted, it's encouraging to all of us on the outside seeing everyone pull together for her. She's already had 414 cyber visitors in just four days. Plus, I'm getting to know a side of many of my co-workers I've never seen before.
Hope you had a good weekend!