It's 7:30 and I'd like to just pop some Ibuprofen and go to bed. It's been a day.
Started out pretty light. Java and I drove to the Rum River park. Java loves her Mini compartment.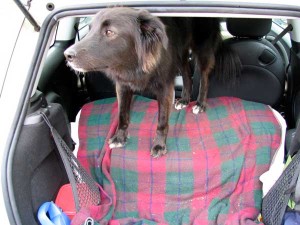 Usually, Java and I walk at a pretty brisk pace as I'm trying to loosen up after a day at work sitting and staring at a computer screen and Java's been cooped up in the house all day. But today, we took a more leisurely stroll where I tried to photograph the flowers I saw along the way. I don't know any of there names, except I'm hoping these are daisies.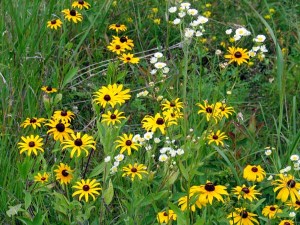 I ran across several kinds of purple flowers.
And this is a lovely yellow flower with a bee in the blossom if you look very closely.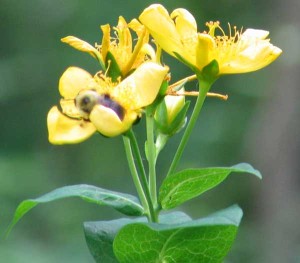 Even Java stopped to sniff at the flowerage before biting it.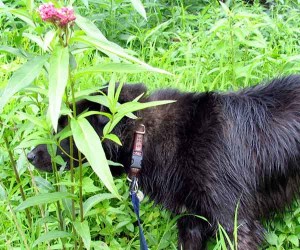 It's been horribly, I mean HORRIBLY, dry here. The river is very low and has a lot of algae collecting as there's not enough flow to prevent green gunk from pooling.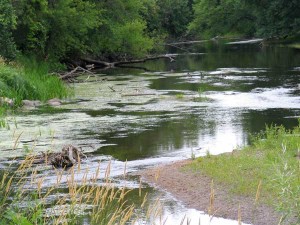 In a deeper, clearer section of water, Java took her usual dip.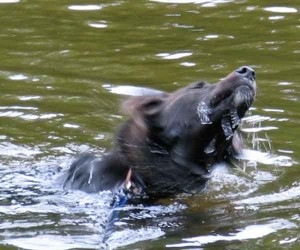 After our walk, I stopped at the co-op and bought an oatmeal, chocolate chip cookie for desert after lunch. I needed to recharge before riding Luke.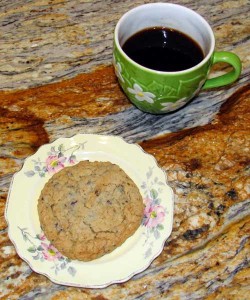 This is a front view of the headgear I use on the horses when riding to keep the bugs away from their ears and eyes. It may look funny but it works really well. Stops all that obnoxious head shaking they do if the bugs get in their face.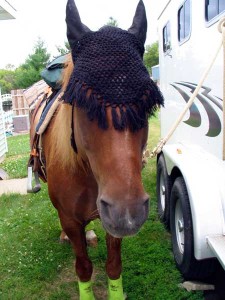 We rode in the arena since H used the truck this weekend. I haven't ridden Luke in the arena since I figured out how to pull the trailer. It was probably good for us as Luke moves well in a straight line but has some balance issues with circles. He tends to lean to the inside. My legs got quite the workout trying to push him to the outside rein.
After riding in the ring, I took Luke to check the pasture fencing. We'd had some strong winds last week and I wanted to make sure a tree hadn't fallen onto any parts of the fencing. I didn't find any fallen trees but the pasture is a bigger mess than I've ever seen it. Everything is overgrown, which is weird considering how dry it is. I suppose weeds are thriving while grass is dying. Can you even see the t-posts? Do you think the electric is working or completely grounded out by weeds?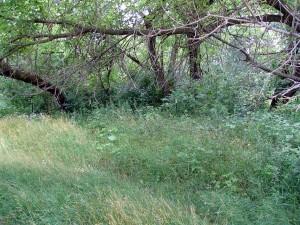 This is our pond. Do you see any water? Neither do I.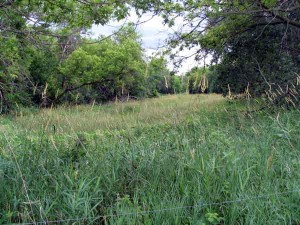 After riding Luke, I set to doing something I should have done at the beginning of spring and then kept up on all summer but haven't had the energy or drive to get to — the infamous paddock manure cleanup.
I started out by scrubbing out the water tank and refilling it. Then I cleaned out the stalls and moved the hay that had been insulated the water pump during the winter but now was just blocking the aisle.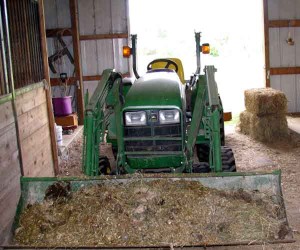 I decided I would shovel three tractor buckets of manure a day and no more. Every time I take this cleanup on, I end up hurting my ribs and back and get what people refer to as "tennis elbow". In my case, it's called manure elbow.
This was the run-in shed before I cleaned it. It's hard to see the old manure but it's stacked about four inches high.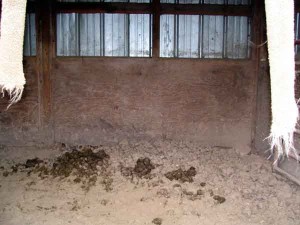 And post clean up. Looks much better.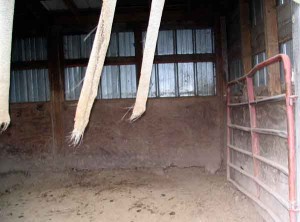 Here's the manure pile and more overgrowth covering up the fence line. Usually I use up some of the manure on my garden, but alas, not this year.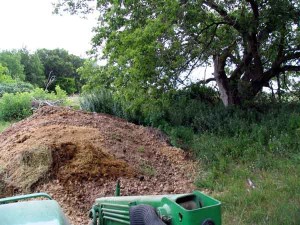 I started a little bit on the outside of the run-in shed, then tackled this mess. It's hay that the horses didn't eat and then they pee on it, turning it into a very nasty looking and smelling mess. You have to have a strong stomach to take this on.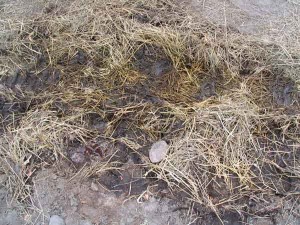 And strong arms to lift the sopping mess.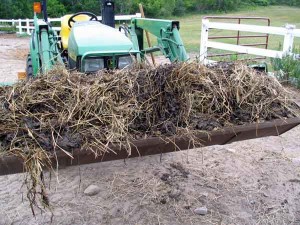 Much better. It will dry up by morning.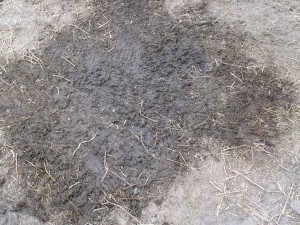 Tomorrow I'll hit this mess on the side of the barn — a bucket at a time.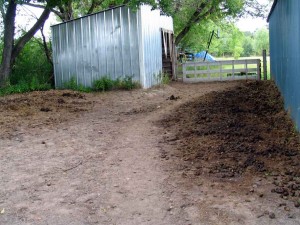 I'd make some analogy, comparing manure to the state of my life and shoveling myself out from under and on and on, but I'm just too pooped.