Weird Weather, Weird Week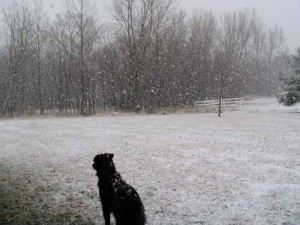 What's this?
Not much time to blog this week. I'm flying out to see my son in Oakland, California on Friday, so there are a number of work and home related things I'm trying to get done before I leave. Rush, rush, rush. Then, my Uncle Frank died Friday evening.
Frank was a wonderful uncle — funny, good with kids, and he had everyone out to his property around Christmas every year, when all the aunts and uncles were young enough to make it. We roasted hotdogs over a fire, drank hot chocolate, ate chili, sat on logs, cut our Christmas trees from the evergreens Frank planted, and rode a sleigh pulled by a tractor. People outside our family thought we were crazy, but it was so much fun! The more drastically, wintery the weather was, the more Polish hardy we felt.
The weather today added to the sense of rampant scurrying. There was freezing rain this morning, that I didn't want to put the horse out into. So I gave them a flake of hay in their stalls and worked at home for a couple hours, during which the freezing rain turned into football size snowflakes. So I figured it was okay to turn out the horses with some more hay, and drive to work.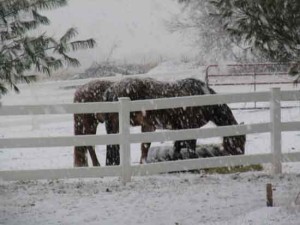 During my drive, the snow turned back into rain but at least the temperature had risen into the 40s. 
When I returned home from work, I threw on coveralls and cleaned stalls. While I was cleaning, a downpour of rain started so I quickly brought the horses in, fed them, and cleaned around them. I then spritzed on a little cologne and my husband and I went to Uncle Frank's visitation. 
I'll be going to the funeral tomorrow to celebrate all the happiness my uncle brought into our lives. We haven't had a family gathering for a couple years (besides the funerals) but my cousins and I will be planning one for this summer. 
It may not be the traditional winter gathering that Frank organized, but what matters is that those who remain from our family continue to celebrate the many blessings we've shared through the years. 
I love traditions. I always have.