"That's life, that's what all the people say.
You're riding high in April,
But I know I'm gonna change that tune,
When I'm back on top, back on top in June."
While taking Java for a walk, I saw an elderly woman standing at her trailer with her horse. I was wondering if there was a problem, but with Java in tow, I didn't know how I could help her. 
Driving out of the park with Java, I saw the woman was still standing at her trailer with a phone held to her ear, so I turned around and parked by her truck. I left Java in the car and asked her if she needed help. 
She said "I sure do. I'm trying to get ahold of my daughter but she's not answering. The mare's an experienced loader. I don't know what's wrong. I'm pretty new to this so it's probably me."
I told her I had two horses so I could help. I'd just get behind the horse and keep her straight and encourage her forward. After a little resistance, the mare walked right on. The woman was very thankful.
I was sure glad I turned around and went back to help her. It's good for the soul when you can be a help to someone. 
There's been lots of "stuff" going on in my life — all of my life. Every time I thought I'd made it through another crisis and could start to enjoy life again, another problem hit. And now there's the divorce. A person could certainly get discouraged.
But I think I have it figured out now. It's simple really. Forget waiting for the crisis to be over before you enjoy life, because there's always something else around the corner and if I wait for clear sailing, I'm never going to have any fun. Instead, count all the things that are going right and enjoy the hell out of them!
It was a beautiful day today. Traffic was light (everyone must have already gone out of town). My brother William called and we talked about his part on "Lost" and about me coming to visit him in Maui next year sometime. Java and I took a walk. I helped a lady load her horse – maybe I'll see her again and we can ride together. Lynn and I didn't make it to a movie but instead hung out at Caribou talking and blogging. I went all out and had myself a Mocha.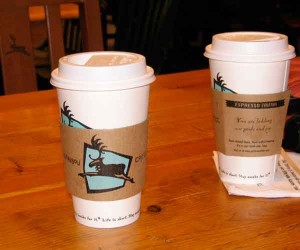 Just appreciating the little things. Life is good…