My birth Mom turned 85 last Saturday. There was supposed to be a special birthday party with all her children that could make it there (four out of six of us) and her grandchildren. But Mom cancelled the party a couple days beforehand.
It's really too bad because she hasn't felt well and she's been very lonely. There's no real physical cause for the "not feeling well" except what comes naturally with being 85, what's caused by her own constant anxiety, and the fact that she's lonely. The party would have done her a world of good. But she's done this sort of push-pull thing too many times. People are losing patience and went ahead and honored her request to not be there for her 85th birthday. Very sad.
She's a much different lady than my 90-year-old Auntie that gladly received everyone on her birthday, not worrying about how she looked and realizing full well that as your life draws nearer to the end, you better see your loved ones as often as you can, and be someone people want to be around so they'll come back soon. Good thing to keep in mind at any age.
I did write my Mom a birthday poem. It was difficult because we just can't seem to connect emotionally. She's so nervous that it's hard to even get her to sit still long enough to carry on a conversation. She doesn't listen, but kind of talks over you, too worried about the impression she's making and what you think about her to focus on what you are trying to tell her. Another good thing to keep in mind — focus on others and listen.
You see, I do learn a lot of things from my Mom.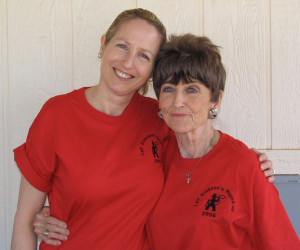 Birthday Poem for My Birth Mom
Good and bad times to face
Happy Birthday Mom!