"Grief is like a bomber circling round and dropping its bombs each time the circle brings it overhead." — C.S. Lewis, "A Grief Observed"
How much more attractive a woman newly in love must be than a woman scorned and wrapped in grief. 
New love – all the wonderful possibilities, the unknown, the adventure, the excitement, the passion, the sexiness of it all- who can resist? Every day is fresh and energizing. It's like you're on some sort of "feel good" drug. You feel like you can be and do anything. You've never felt like this before. You totally shine — your awesomeness reflected in the eyes of your lover. Surely it will last. A love like this has got to last. It's different this time. You are so sure of it. I was so sure of it.
I wanted that 25th anniversary love, the kind that has weathered the storms, a deep, meaningful love. I'm going to live to be 100, so if I can find a man with similar longevity, it might still happen. 
But how do you trust again? How do you trust your judgement, your instincts, when it's gone so terribly wrong? How do you trust another person with your heart?
I've said the risk of love is worth it, the possibility of bliss worth the possibility of being hurt. But perhaps that was before I fully realized how deep the hurt goes.
How wonderful for H that he is so badly desired by two women. I could sure use that ego booster about now. 
C.S Lewis writes,
"when reality smashes my dream to bits, I mope and snarl while the first shock lasts, and then patiently, idiotically, start putting it together again?… However often the house of cards falls, shall I set about rebuilding it? Is that what I'm doing now?"
I want to avoid building up the same life that is now being torn down. I want something better than this. But how to avoid doing the same thing over and over again? Hopefully, my friends and family will gently point it out when I falter. The way I wish H would have done, when that's what he was feeling. And the way I should have done with him.
I have a great idea if any radio execs happen to be reading this, there needs to be a radio station for the broken hearted. And I don't mean one where they play a bunch of sappy love em and leave em songs that make you cry. 
When a song like "I Can't Make You Love Me If You Won't" by Bonnie Raitt comes on, I switch channels. I know it might not seem like it, but I'm really not one that wants to wallow in my sorrows. No, the radio station that I have in mind would play only upbeat, jamming music, like "Bad Reputation" by Joan Jett or "Not Ready to Make Nice" by Dixie Chicks. Okay, so maybe those are angry songs, but you know what I mean.
The other day, "Bohemian Rhapsody" by Queen played on the radio. I love singing to that song! All the great harmonies and stuff! But now it brings back memories of the last concert H and I went to in October 2008. The MN Orchestra did a concert of all Queen songs with the singing group called Rajatan. It was awesome! H had Queens greatest hits on his car's disk and we sang and boogied all the way home from the concert. 
Those are the memories, the ones where I had such a great time with H, that bring me the most pain. I try not to think about it, but things, like songs, trigger certain memories. There are also certain television show I can't watch anymore, like "Brothers and Sisters" where Kitty is leaving Richard to have an affair with some guy. Sigh…
While waiting to get my hair cut, I read an article about a woman who's husband left her for another woman and two years later, she still wasn't over it. She ended up sitting outside their wedding, which was outdoors, and watching with binoculars. Lord, I pray that doesn't end up to be me!
I don't think it will be. I'm too busy for stalking. Yesterday, Lynn and I went to an event called "Art-A-Whirl" and today I'm going kayaking with Sue. I'll write about my fun filled weekend when I get a moment. Here's a teaser…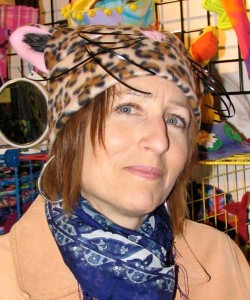 Me being catty