Thanks everyone for your comments on my post on Willow. One of my nieces read it and told me that she put her deceased dog's tags on her keychain because he loved to ride with her everywhere she went. I wish Willow would have had dog tags because that's a really good idea. 
And my niece has kept her dog's ashes and placed them with his collar and a clay paw imprint on a table. From this and what other people have said, I think I'm going to take at least some of Willow's ashes with me. She would have enjoyed the adventure! And, yes, I do plan to make my life an adventure to remember. Haven't figured out how yet, but I will.
Today, because I'm tired of spewing out all my emotions, I'm just going to show my weekend in photos. 
These are the types of photos you end up with if you are trying to take photos of yourself riding.
Okay, I can get a pretty good photo of Luke before I get on. Doesn't he look nice? He's just raring to go. I actually looked up the idiom "raring to go" because I wasn't sure I was spelling "raring" right. I discovered the saying is derived from a horse "rearing" and being anxious to get moving. Just a little trivia for you…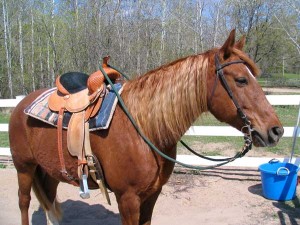 Actually I think Luke was more in the snoozing mood. Or he was just trying to keep the sand out of his eyes. It's been really windy around here lately.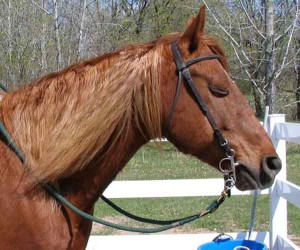 So here I am, in the saddle, looking utterly sheik in my helmet and dark glasses. I kind of look like a cop or something, you know, like on CHIPS. Okay, so you're too young to know about that TV program. Never mind…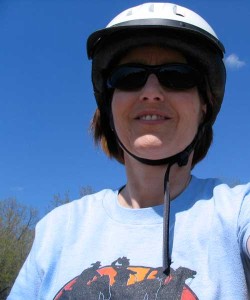 And here's my leg and foot in the stirrup. Man, my shoes are looking pretty worn! The half chaps have been giving me problems too. Zipper doesn't want to zip anymore. Old and worn out just like, oh wait, I wasn't going to go there…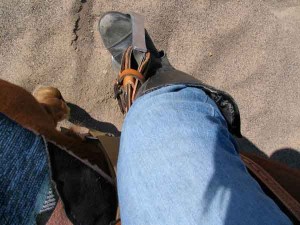 And here I am taking photos while moving. See what a fine job I'm doing.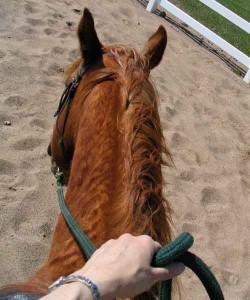 Alright. So that was kind of boring. So I'm moving on to Java. She's much more entertaining. Here she is, caught in some sort of sideways, airborne leap.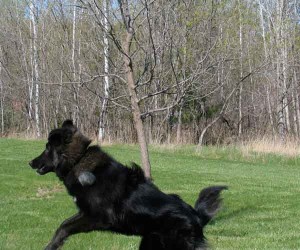 And here she is running with a piece of duct tape.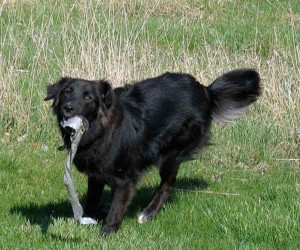 And after all that running and jumping, a dog really needs to take a dip in the pool.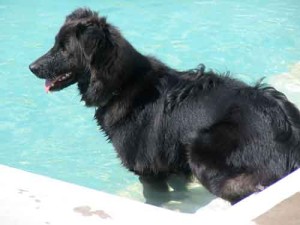 But for the grand finale, here's Java trying to lead Luke, who's too busy eating grass to budge. Ignore that mysterious head growing out of Luke's back.