Making Adjustments: Lessons Learned From an Ash Tree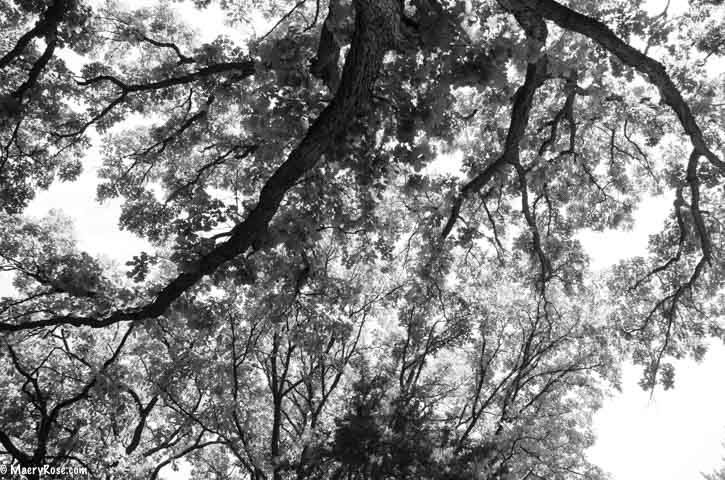 Last week, I made a list of things that I'm not moving forward on because of the fear that I'm no longer capable of doing them or because I'm afraid of getting hurt. One of those things is taking a post retirement bike trip. But before I get into that, let me tell you about a tree I knew as a child.
Lessons Learned from an Ash Tree
My parents had an ash tree in their backyard that was a perfect climbing and sitting tree. I could jump up to the lowest branch, walk my feet up her trunk to hook my legs over, then pull myself up to a sitting position, before I climbed higher. This process became easier over time as I grew stronger.
Before long, I could put my treasures into a sack and haul them up into the tree with me. The forked area of her branches was able to hold my books, pens, and journal – not all at once, but they provided me with an extra pair of hands.
Held up by the tree's branches and hidden by her leaves, I felt safe. The ash was my protector, my secret place. I felt wild, strong, and free while I looked out on the world unseen and cradled by tree branches.
One night, there was a thunderstorm. "God is having a heck of a bowling tournament up in heaven," my mother would say on such nights. In the morning, I saw that the ash tree had been split at its main fork – probably from the high winds. She was in danger of losing half of herself, maybe dying.
My father, never short on ideas on how to fix things, some good and some bad, came up with a plan to bolt my friend back together again. I don't have very many fond memories of my father. Most of the pictures that float through my mind are of his drinking and his temper. But attempting to save the ash tree, for that I loved him.
The bolts holding the ash tree together made her creak like a rusty door whenever the wind rustled her leaves. But she made adjustments to accommodate her bolted together, creaky self. She didn't just whither away, too upset with life's changes to carry on. She put out leaves every spring and continued to grow.
I want to internalize this tree-ability and continue to make adjustments and grow. But first, I need to do something about feeling so vulnerable.
Putting Lessons into Action
In my childhood, I turned so many things into a contest, a test of my courage and strength. How far could I ride my bike? How far up could I climb a tree? From how far up could I jump down from the tree? How deep could I go under water? How many times could I jump rope without stopping? How fast could I walk across the top of the monkey bars and not fall?
With each accomplishment, I would feel more substantial and solid — less vulnerable. It was my way of dealing with crippling fear.
I wonder if I can do something similar again to make progress towards living more fully and less fearfully?
Desire Statement
You can also call this your goal statement, but I like dreams and desires better than goals. And I have been dreaming and desiring to take a bike trip. You can get more formal and look up how you set SMART goals, that are specific, measurable, attainable, realistic, and timely. I'm not doing that because, as of this moment, I still need to determine what actually is attainable and realistic. I may find that I need to make adjustments to my expectations so instead of giving up, I'll do what I can do.
Options: Making Room for Adjustments
Since I don't know what's possible for me, I've come up with three options to do my bike trip.
Option 1: Drive my bike to a campsite or hotel near a bike trail and take daily rides, returning back to the place I'm staying each day.
Option 2: Make reservations with a fully supported bike touring group, like Woman Tours.
Option 3: Bike a three-day-route and stay at hotels along the way.
Option 3 is what I'd been planning, before my body went haywire on me. Plus, I was going to camp rather than hotel it. Now, I think biking is challenging enough without also carrying everything I would need for camping.
Option 1 would be my second choice.
Option 2 is tempting. You can rent electric assist bicycles now with many touring groups to get up those dang hills. And they take beautiful bike trips all over the world, staying in nice hotels with great food. But it looks like way too much socializing for my introverted personality and not enough freedom to do whatever I want. So even though women rave about how wonderful these group rides are, and I generally believe that what everyone else loves I should also love, I'm getting old enough to know that it's wise to consider my personality and needs in the choices I make. I'm not saying I won't ever do a group ride, but it's not my first choice at this time.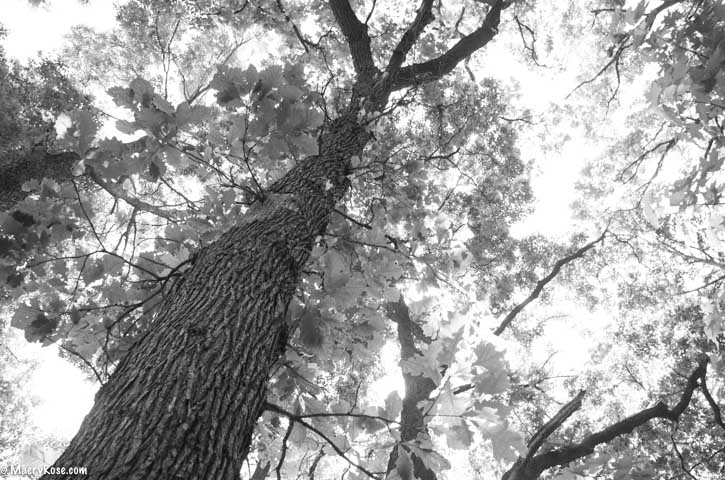 Obstacles
I see a number of possible obstacles to making my bike trip.
Can I physically do it? What if I get a flat tire or something breaks on my bike? What if I get lost? What if it rains? What if I get hurt and there's no one around?
While it's a good idea to plan for the things that can come up, like rain and flat tires, obstacles like that can be worked around. As I see it, the biggest obstacle lies in the question, "Can I physically do it?" But even there, I won't be that far away that I couldn't call someone to pick me up and give me a ride home or to my hotel if I can't continue.
Making a Plan
Once you know what you are taking on, you can start breaking it down into steps and creating a plan. My steps look something like this:
Map a route.
Pick my travel dates
Make hotel reservations.
Research food options along the way that could accommodate my food intolerances. Based on that, make a meal plan for what foods I'll need to bring with me.
Go through my packing checklist and make sure I have everything on it, the means to carry it, and that I'm keeping the weight I'm carrying down to a minimum.
Pack up and go.
Almost any goal setting book or article will ask the question: "What's your next step?" Is there anything you need before you can take that step? If there is, then that is your next step.
In asking that question, I see that I've left off the most important step of all: I need to physically prepare for the bike ride.  I need to take this aching body out for test drives to see how she handles.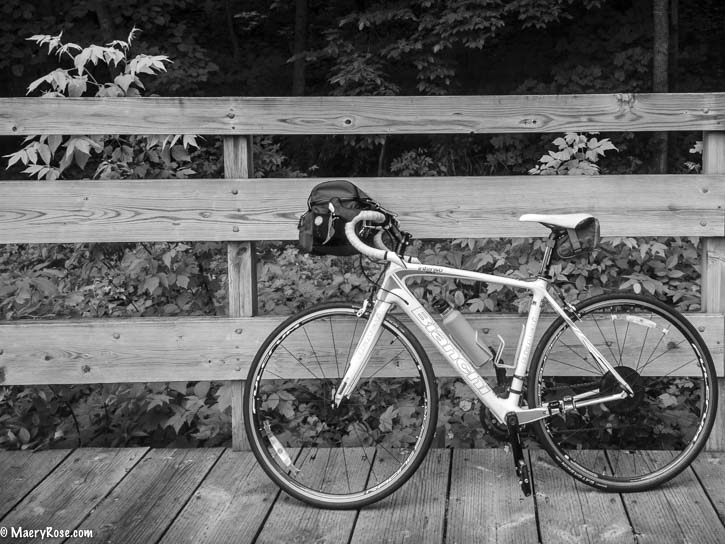 First Step
So my first step is to ride my bike. I'm planning on riding sixty miles total this week. If I can manage sixty miles, I'll keep increasing weekly mileage until I can ride one hundred miles in a week. If I can do that, I'll feel confident to go on my trip. If my rides don't go well, I'll adjust my plans and probably do Option 1 instead.
Do you have any challenges you want to take on this summer? Or maybe they aren't challenges for you, but some kind of change or a new experience?
I'd love to hear what other people are up to.
---
For Inspiration