The Woman Who Was and Will Be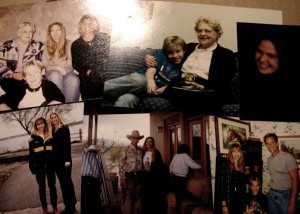 On Tuesday, I received in the mail some photos that my ex sent me. They must have gotten mixed with his things when he left me over three years ago. There were photos of the first meeting with my birth sister, my first meeting with my birth brother (also given up for adoption), my birth Dad, photos of my adoptive Mom, my son, my niece, my stepdaughter.

And photos of me – so much younger. A me that was finding, pulling a life together, never thinking it would go to pieces all over again…

But it's okay. To be reminded, to feel the past, miss people, miss a self that got lost, got hurt, that longed and loved and fought and lost or maybe gained, she's not sure yet which.

It's okay. Because things come together and they change and they get better and then worse and then surprise us altogether. We may not want this cycle, but it doesn't care. We ride it. Or it rides us.

Which do you prefer?

Below is the post that I wrote for Vision and Verb. I wrote it while bucking out crazy emotions for the woman who was and cantering fast and furious over the ground for the woman who will be.
———————————————
I haven't sent Christmas cards for a couple years, but I wanted to help contribute to Kiva, so buying cards on "Vision and Verb" and sending them out seemed like a win-win thing to do. And it was. Because what I gained was a phone call from my Aunt Flossie, who I haven't heard from or seen for quite awhile.
Talking to my Aunt was kind of like spending a bit of time with my Mom again. My Aunt was like a second Mom to me. If it hadn't been for her and her youngest daughter, I would have spent some very lonely summers in the childless neighborhood that I grew up in.
During our catchup conversation, I voiced my concerns about keeping my job for the next ten years, about keeping my sanity in the next ten years, about my hopes for a break, for better times, whatever that means.
Her response was, "Ten years? Don't think about ten years! Just live today. One day at a time. That's how I do it."
Common sense, but I needed a reminder and trusted the wisdom when it came from my Aunt. Over the years, she has volunteered at her church, taken communion to the housebound, driven a blind woman to the grocery store, and visited her sister, my Mom, almost every day during her last years in the nursing home.
My Aunt told me, "I'm so busy all the time. And yet, I don't think I'm actually doing that much in a day. I wonder if I'm slowing down?"
I'm not even sure how old my Aunt is but she has to at least be in her late 80s. Slowing down? Perhaps, but in comparison to what?
I feel a similar question, not sure why I can't get everything I have planned done in a day. The years when I had a child, a husband, and an elderly mother to take care of, I managed to accomplish so much more than I do now. I keep thinking if I am better organized, plan my day better, don't watch TV and so on, that I'll get more done, but this doesn't seem to be true.
In a recent post on my blog, I wrote about embracing my weirdness in 2013. I think I might have to also learn to accept aging. That doesn't mean I'm planning on sitting in a rocking chair or anything, it just means I stop beating myself up for moving more slowly.
Because that's not all bad. By slowing down, I'm noting more of the things that are important and taking the time to appreciate what I have, rather than running for the next goal.
I do have a question though. Has anyone ever seen an old swan? Swans are one of the sights that I take time for, never tiring of their form, of their ugly duckling story.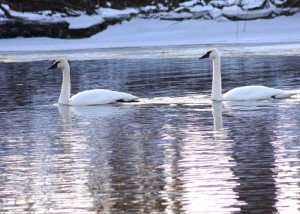 As they age, do they wobble a bit as they swim along? Or because they don't worry about such things, do they remain a vision of grace?
Swans, magic ponies veiled in snow – I catch them out of the corner of my eye and sigh and let my plans go.