Families are an interesting thing. And I have two of them: my adoptive family and my biological family. Unfortunately, both my families have gotten smaller. 
My adoptive Dad died 25 years ago. My adoptive brother died 13 years ago. And my adoptive Mom died about 17 months ago. And now my biological Dad died on November 28, 2008 from cancer.
I actually met my Dad on Thanksgiving in 1998. Ten years was not enough time, not that any amount of time would have fit the bill. But he lived about 1700 miles away from me so the visits were too short and infrequent. 
My Dad wasn't the only member of my birth family I met at that time. I also met my birth Mom, three sisters, two brothers, and a number of nephews and nieces.
The most fascinating thing about meeting my birth family was that the love of horses and animals appears to be genetic. Who would of known? So many things about me finally made sense.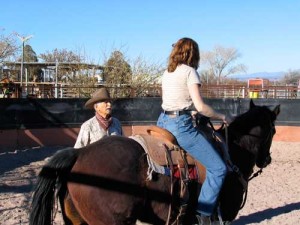 My Dad and Me on Jacki (2004)
The death of a parent is a difficult thing to go through, but I've found it especially complex with the loss of my birth Dad. Probably something to do with losing a part of myself so recently found. That mixed in with the adoption, rejection, abandonment issues I tote around with me. It's something I'm sure I'll be working through for quite some time to come.