Bike Touring Practice Run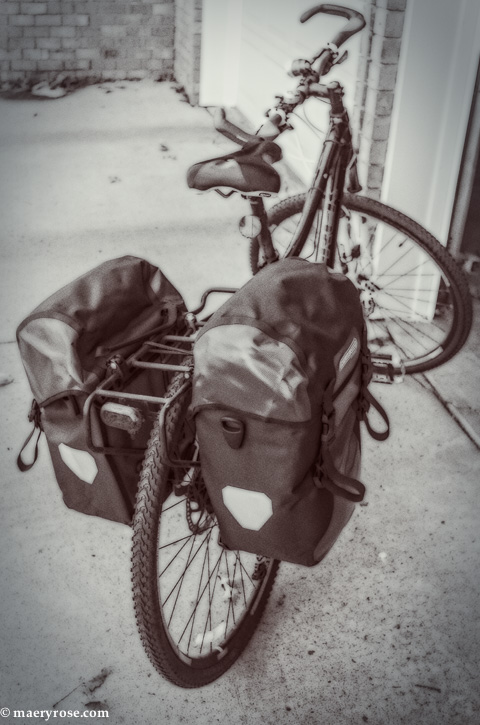 I hesitate to call the trip Steve and I are planning in June a "bike tour." Most bike tours you read about are people taking weeks or months to bike down the coastline or travel from one side of the country to another. Whereas we are loading up our bikes with a tent, sleeping bags, food and cooking supplies, and heading about fifty miles away from home to a Minnesota camp site. The next day we'll bike and hike the area around the campground. Then we'll ride the fifty miles to arrive back home.
Whoop-de-do!
Hey this is the no-shaming bike tour plan!
It's the first time we've done anything like this so we're starting out very small. And truthfully, I don't know if I'll ever be up to the rigors of packing up my things to head cross country. After all, I have dogs and chickens I hate leaving behind. (I've been looking at the Cycling Gypsies website and thinking perhaps the dogs can come along someday when the humans know what they are doing.)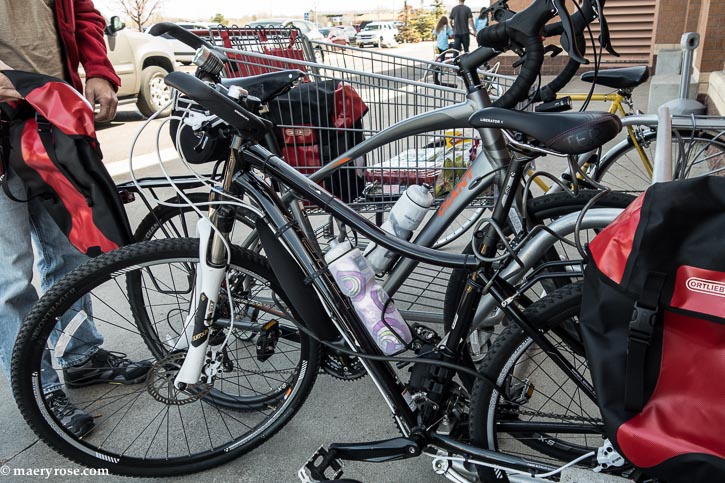 I do hope to work up to trips over longer weekends or even take a couple weeks to ride. I would like to prove that anyone who has an interest in doing this bike touring and camping thing can do so. It doesn't have to be a huge deal. We can unite in our quest for shameless bicycling.
On our first practice run to try out our new panniers, Steve and I decided to run errands, including a stop at Costco. How better to test our pannier volume and weight capacity than making a run to the mammoth warehouse with its super-size only packages? We wanted to also find out how our bikes (and the riders) would handle the load, especially pedaling up a hill.
As far as bike handling, everything was fine. The only problem was trying to lift the bike to maneuver out of the bike racks.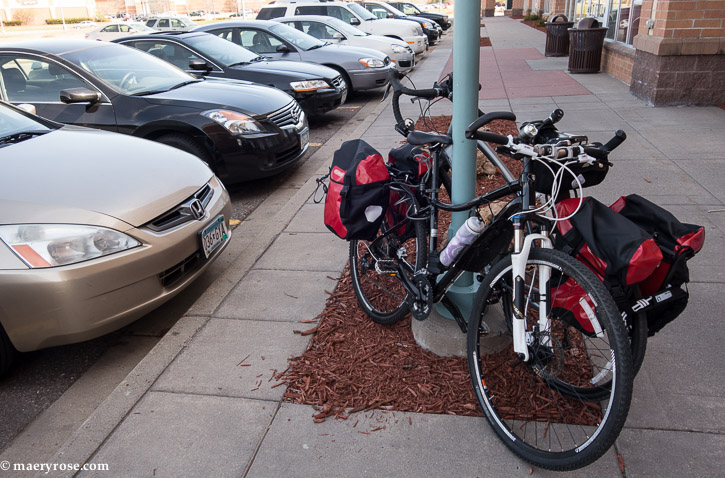 Before going to Costco we stopped at DSW for me to pick up some tights and then stopped at TJ Maxx to look for narrow legged pants (all the better to bike in, my dearie), which I did not find. This gave us lots of practice on locking and unlocking two bikes with panniers on them. Fortunately, one of our cables is REALLY long.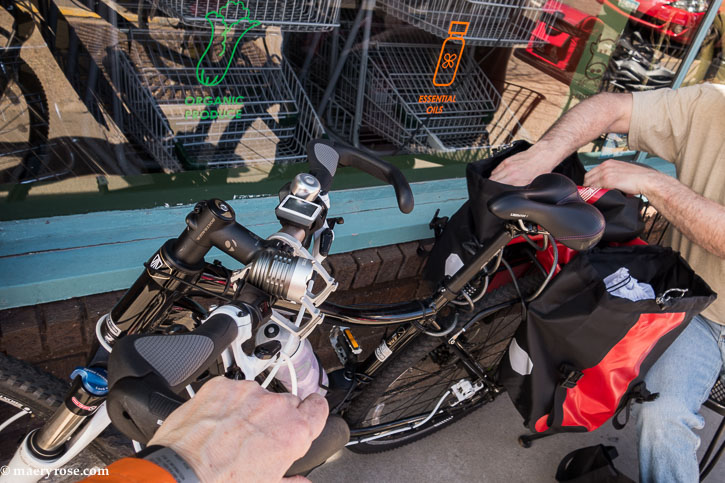 After loading up at Costco, we also stopped at the local Grassroots Coop for my yogurt, kale, tortillas and other assorted groceries. Note the bracelet on my wrist. I bought it on RoadID.com  after hearing the bracelet recommended at a presentation about bike touring. The Bike Touring 101 presentation I attended last winter was very helpful and you can read more about it on Grease Rag.
The bracelet provides important information about who you are and who to contact in an emergency. It's a good idea for anyone who does stuff like bicycling, horseback riding, hiking, etc. where you might be off by yourself and could be injured. Actually, I think it's a good idea period but especially in those cases. There are several different styles at a variety of prices. I went for paying the yearly $9.99 fee for the version with a serial number and pin that first responders can use to call and get more detailed medical information.
So if you're not interested in bike touring, you probably quit reading several paragraphs ago. The thing is, I HATE running errands. I pretty much can't stand shopping in general. It feels like such a waste of precious time. But running errands by bike, especially if you can drag along a partner in crime, makes shopping tolerable because it's combined with taking a bike ride in the great outdoors. Okay you are riding through parking lots and on streets but still. If nothing else, smile wickedly as you pass by cars where people are swearing at each other as they compete for the best parking spaces and you walk up onto the sidewalk next to the door, and nab the best parking place in the whole lot.