First Birthday Without a Cowboy Poem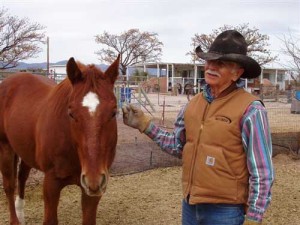 My birthday was on Tuesday the 24th. I suppose birthdays are supposed to be a happy time but I felt kind of down. 
One of the things I've looked forward to on my birthdays since I found my birth family has been waiting to see what kind of card my Dad would come up with. Not to belittle the other cards I receive from people, because they are wonderful too, but my Dad wrote a kind of cowboy poetry that I always looked forward to receiving.
One of the cards he sent me said,
Happiest Birthday!
Dance like there's nobody watching,
Love like you've never been hurt,
Work like your reputation in in judgment,
Live like you know there's a hell.
Ride like there' nobody watching,
And like you're really expecting to win.
Don't hold a grudge or try to get even,
I've done it and tried it too often,
And now I've learned to move on, I'm believing.
Care for the ones who don't care
You're better than that, and we all need a break.
Keep your word, don't break a promise,
Your reputation, for sure, is at stake.
Rise in the morning, like the sun shining brightly.
The world won't stop nor slow down just for you
There's life to be lived.
Love, your other Dad
Granted, not all the lines may be original but the way he put them together and added his own words made these cards very special to me and to my brothers and sisters who received their own special birthday cards.
My Dad died last Thanksgiving from cancer. (You can read more about that in Horse Love and Genetics.) So there will be no more special birthday cards from him. Maybe just a new ritual of pulling out the old cards and rereading them. And remembering what a special place he holds in my heart.