I'm in such a strange place. When haven't I been? But this is perplexing in its uniqueness to my usual strangeness.
I don't want to be on my computer any more than I have to lately. I try to write, edit photos, read email, catch up with people but just the sitting down at my computer makes me feel overwhelmed. Too much data. Too much to keep up on.
Rather than push through what I find odd and confusing, since I usually like doing things on my computer, I'm trying to listen to my instincts and live what I'm drawn to at the moment, realizing that this can change again in an instant.
I'm getting that now, not to expect things to remain the same. Not to expect to find "the answer". To find that one thing that is going to make everything make sense. It's not bothering me so much because all of it — the good and the bad just is and it's not so bad.
I went trail riding with friends on Saturday – only the second time I've been able to get out this summer.
I was planning on a big bike ride today but it got warm so early that after I walked Latte and Java, I was drawn to sit on the deck and read while sipping lemonade. The Brew Babes were in a similar mood and crawled under the deck to lay in the cool dirt.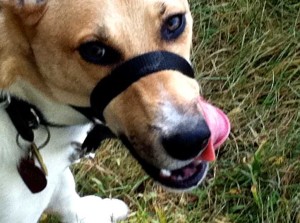 I did ride to the bike shop later to get new handle grips and a comfort seat for road biking. Then I made pesto from my over-abundant basil and had it on pasta with sliced up garden tomatoes to boot – amazing! I threw in a spicy Greek basil along with the standard stuff; it definitely added a bite to the flavor. I would have taken photos of my dinner but I ate it up too fast.
I think what I loved most about my meal was that the basil and tomato were from my garden. I love eating things that I've grown and cooked up myself. The more that I've had to do with my meal, as far as the growing and cooking, the more I like it. I like the hands on, taking my time, aspect to it – the tactile, aromatic, meditative unhurriedness.
I'll leave you with a couple videos: a brief play in the tall grass moment and a short montage of our trail ride. It's a wonderful life!