Good Day to Clean the House
It seems too early to post, but it's already been a fun-filled day.
As expected, icy snow.
I swept up the barn isle and covered the worst of my path to the barn with the dusty mixture.
I used some loose hay to create a path to the water tank, while Luke and Murphy watched me.
Murphy had to get a closer look. You can see he's still wearing some loose shavings and has a hay mustache going.
There are some interesting icicles developing.
When I got back inside, the first thing I had to do was Netti pot my nose to get the dust out.
I keep hearing a lot of loud noises outside. I'm hoping it's icicles falling off and not tree branches.
The front steps look a bit treacherous.
And when the temps drop, I'm thinking the riding ring is going to be a skating rink.
I'm hoping to leave the horses out as long as possible but if the rain soaks them, I'll have to bring them inside. They have shelter, but they aren't using it, even though the rain is making them itchy. Luke laid down three times to roll.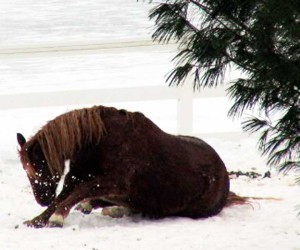 The photo of Murphy rolling was mainly showing a lot of private parts so I'll spare you.