They Say It's My Birthday
About a month ago, I decided I would take today and tomorrow off as a birthday mini-vacation and retreat. You know, contemplate the meaning of life and figure out what I want to do with what's left of said life. Plus I wanted to write and do some other fun stuff.
Then I got a puppy. I still took the days off but they are being spent trying to acclimate Latte Da to her new home, work on some puppy training stuff, and just figure out how this is all going to work.
The highlight of my birthday was when my birth mom called and sang Happy Birthday to me. She sang the Marilyn Monroe version of Happy Birthday while I was out walking the dogs in the woods and struggling to keep them from wrapping around my legs.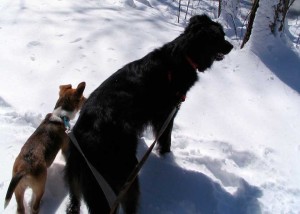 I spent the morning debating about how I could take the dogs for a walk at the Rum River park but still make a few stops to carry out some errands. I've taken Latte in the car but haven't left her unsupervised where she might do who knows what.
Should my first stop be to pick up a travel crate just to play it safe? Then I remembered that when I first drove around with Java, I put down plastic in the back of the Mini, which I covered up with a blanket. So that's what I tried with Latte.
First we stopped at the license bureau so I could buy new county park passes. They were short-handed so it took longer than I'd hoped, but when I got back to the car, Java was in the driver seat and Latte was laying down in the back. So far, so good.
Then we went to the Rum River park. I hadn't considered that since we just got a bunch more snow, there probably would not be a groomed walking path.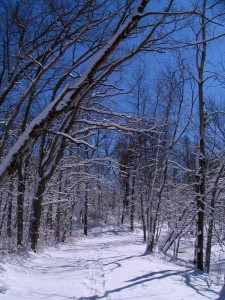 I was afraid Latte wouldn't be able to go very far bounding through the deep snow, but she's a little go- getter. She did her puppy-piston run alongside Java for awhile, then dropped behind me and walked in our footprints. Once she'd taken a breather, she'd be back to running through the snow again.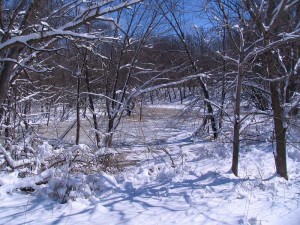 Everyone in Minnesota is pretty sick of the snow, especially getting hit again after it was almost all gone, but it is pretty and probably won't hang around for very long.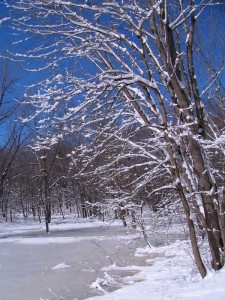 We didn't get far enough into the park to reach the river. I didn't want to end up having to carry Latte back out again. Walking past a few ponds was good enough.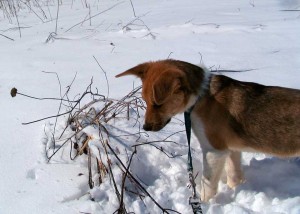 So we got back into the car and went to the library so I could return some books and check out these: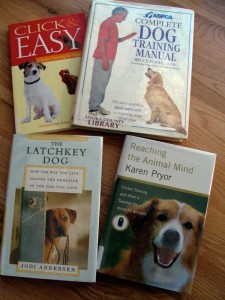 I'm not going to read all of them. I grabbed a few that looked promising and figured I'd do a deeper scan at home. I generally pick and choose the information out of a group of books that addresses some of my questions. Usually I'll be more attracted to one author's style of presenting information than another's.
Some of these books are text heavy and more about understanding dog behavior and their needs than the nitty gritty of training. I like understanding why something works and why something else doesn't. I think that's important when it comes to making adjustments to suit different animal personalities.
If you are familiar with any of these books, please let me know what you think.
When I got back to the car, both dogs were laying down in the back of the Mini. Hey, this was working out pretty good. As a reward, I took the dogs out of the car again and walked a path that runs through the woods behind the library. A few people had already walked that path, someone had even skied it, so it was a little easier for Latte (and me) to walk on.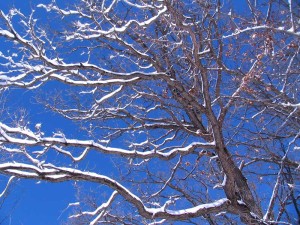 For having started out this morning at 7 degrees, it had turned into a gorgeous day. I had to take off my hat and gloves and unzip my jacket it felt so warm in the sun. The sun, ah the sun. It was glorious!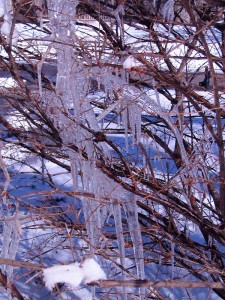 After that walk, we stopped at the coop so I could buy a few groceries, and then we went home. I thought the dogs would be pooped, but they had another one of their wrestling matches in the living room. All Star Wrestling seems to go on at my house almost non-stop. I can't believe how they keep going at it.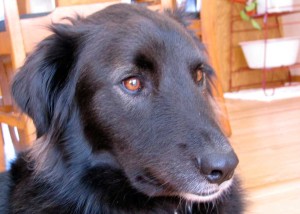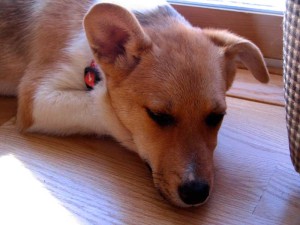 The second highlight of my birthday was this card I received from my cousin. There was a note inside telling me that anyone who could eat Hormel Chili and Fritos like we did when we were kids could certainly handle a stack of Oreos.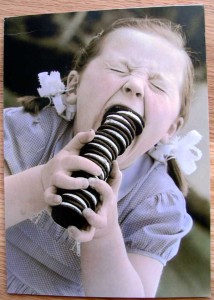 The third highlight of my birthday is that so far today has been a puppy accident free day. Of course, I've watched Latte Da like crazy and have let her out every two hours but I tried to do that yesterday and there were four accidents. So I'm pretty happy with today's progress.
But now I'm going to settle down and watch a movie while I eat my birthday pizza and have my birthday beer and enjoy letting sleeping dogs lie.