Imagination… It's a Good Thing. Isn't It?
It was one of those days…
A high predicted of 63 degrees. The weather has been amazing! But like all good things, it does have to come to an end, and it sounds like it ends tonight. Predictions for highs are going something like this for the next week: 48, 43, 40, 36, 30, 24… well, you get the picture.
It was a pinky-purplish sunrise this morning. I barely get to see it, much less photograph it as the neighbor's house is in the way (darn pesky neighbors).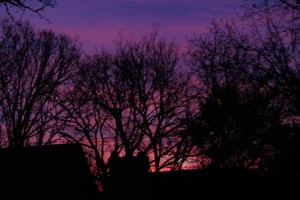 I thought this tree made a cool outline against the sky.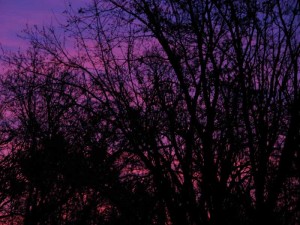 This was kind of interesting. It's like the last photo I took got superimposed onto the picture I was taking. Actually that's two old photos superimposed onto the latest photo. How does that happen? Especially when I clear my cameras memory every time I download from my camera. A mystery…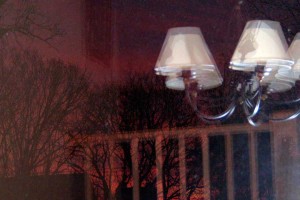 Anyway, the outdoors was on my mind all day at work. When nice days are rare, you should be able to take the day off and make the day up on the weekend, when the temps are supposed to be unpleasant. Although, soon enough, 40s will be perceived as tropical for us.
I was trying to write a procedure for someone at work today. It was really an editing and layout job more than a writing job, but there was a lot of editing and re-layout to be done. Very tedious and brainless work.
When I have this kind of document to do, my mind wanders. I write a few steps:
Select Sort from the menu.
Select your parameters.
Select ascending or descending order.
Click OK.
Okay, I need a break now. So I open up Notepad and jot down all the stuff that was running through my head while I was writing steps 1 to 4 and adding screen shots.
Today, my brain was off doing a dance and musical number that looked kind of like this:
I'm dancing on the stage
In my head
Leaping into the air
Finishing with a spin
A tree appears
And I catch a branch
Swing up with ease
Backflip down again
Land in a crouch
Arms wrapped in a hug
Until I spin upwards
Hands dance
Their own separate ways
My head is back
Eyes on the stars
A song pours out of my mouth
Soulful and smooth
All else disappears
On the stage in my head.
Sudden change of scene…
My mind is now galloping across fields.
While my body is trapped in a chair,
Eyes staring blankly at a computer screen
My brain is jumping logs on a horse named Fire
It is bicycling down a bumpy hill
It is lying in the shade of a tree
The sun glittering through the leaves
And making me squint.
How can I possibly write about how to run a report?
Sitting still almost kills me
So my mind spins, runs, leaps, and sways
To songs that play endlessly
Hands paint shadows across walls
A fish, dog, and dragon too
There is even a tad bit of flamingo dancing
Hands clapping, feet stomping
So much happening
On the stage in my head.
What can I say? Don't all creative writers do this to keep their minds from imploding while they do their day jobs? Good thing my mind isn't this spun up everyday… =D