What a weekend! Saturday I went to the 50 on 50th Art Show and bought a couple things to fill an empty slot on my book shelf. The tree on the right was welded by my friend Sue. I have enough horse decor and decided I needed some art depicting my other loves — trees and a bike seemed perfect.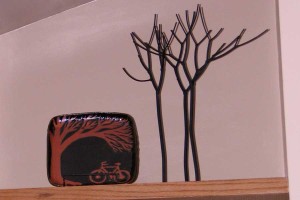 After checking out the great art and having lunch with friends at Edina Grill and a cupcake at Sweet Retreat (whoa baby!), I wanted to get outdoors to enjoy what remained of the day. So we packed up bikes and headed to Elm Creek for a bike ride.
The bike trails are some of the same trails I take when Java and I go skijoring in the winter. I don't remember the trails being so hilly when I ski them. It was a lot tougher to travel by bike. I actually had full blown lung burn after an especially long and steep climb. Taking a photo was a good excuse to stop and catch my breath.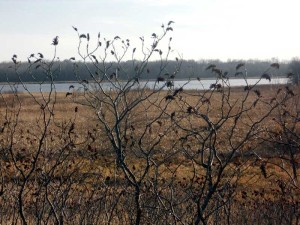 We took a detour cross country for a bit but I wasn't crazy about the narrow rutted trail, nor that the trail took us backwards to where we'd already rode.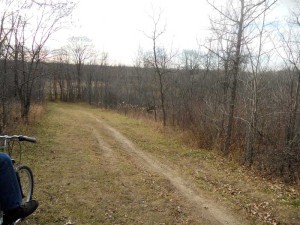 After having such a big lunch, I wasn't planning on having dinner but after several hill climbs I decided I could afford some extra calories and ended up eating more than my share of pizza for dinner. I pretty much fell into bed Saturday evening.
After doing some yard work Sunday morning, I met up with two other friends at the barn to go trail riding. There are so few nice days left before winter hits that I'm squeezing as much out of each day as possible.
While the 3 of us were preparing to load our horses onto a 3-horse trailer, a 4th friend showed up at the barn and was game for a ride too. So we took two trailers and headed to a park about an hour away.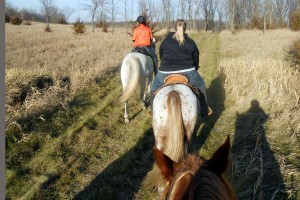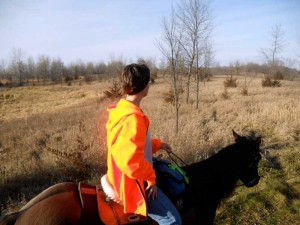 It was the opening weekend for rifle deer hunting so a few of us were sporting orange even though there shouldn't have been any hunters in the area. Key word is "shouldn't," doesn't mean there won't be any.
It was about a 3 hour ride around the park. Most of the leaves have dropped so the trails aren't as pretty as they are in the summer and fall, but the stark outlines of the upright and fallen trees are lovely in their own right.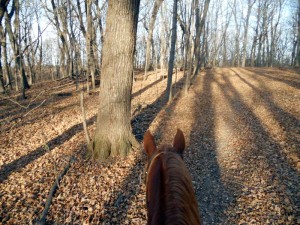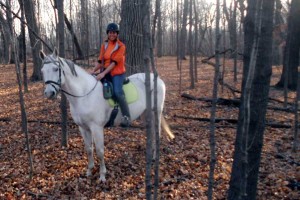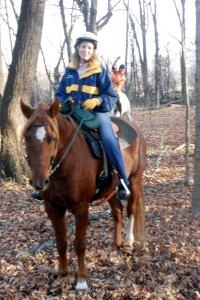 The sun was getting low in the sky when we got back to the trailers and loaded up.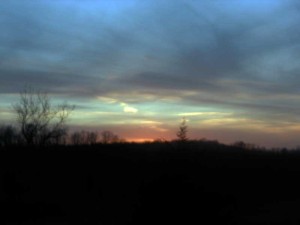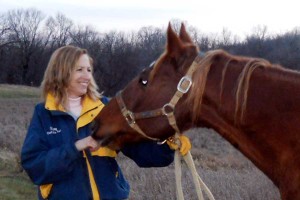 It was all out dark when we got back to the stable and unloaded.
What a great weekend! But I wish I had tomorrow off to rest.