It's the little things that pump you up and it's the little things that can quickly deflate you.
I won't bore you with the tire poppers. They'll work out eventually.
Besides, there are the pumper uppers to compensate:
My son commented on my new Facebook photo with a simple "You're pretty". (big Maery smile).
Other people's comments, notes, and cyber hugs have given me renewed energy.
We are getting new software at work to do my job. That will give me a great opportunity to learn something new.
Luke is getting along well with his new pasture pal. And I am enjoying my boarding comrades.
The weather has been awesome lately. A lot less humid and cool enough to shut off the air conditioning and open up the windows. I don't get the frogs and coyote sound effects in my new neck of the woods, but there are crickets and dogs barking, and cat fights, and traffic noises. Okay, not so great, but just having some fresh air circulating makes me happy.
And with the great weather, there has been much outdoor activity.
Saturday, I took Luke to the Sand Dunes State Forest for a trail ride. We haven't gone trail riding since moving and I wanted to get both of us out before we go on a full-fledged camping trip. After two hours of riding, I was thinking I might need a seat pad if I'm going to last through 6-8 hour trail rides.
We started down a trail lined with pine trees. I felt like I was in a magic monarch wonderland, there were so many butterflies flying around Luke and me. I tried to take a photo, but every time I pulled out my camera they disappeared. It was kind of like I was only allowed to witness and remember the magic, but I couldn't turn it into a photo. That was frustrating but only added to the moment.
You will have to settle for this photo of the path.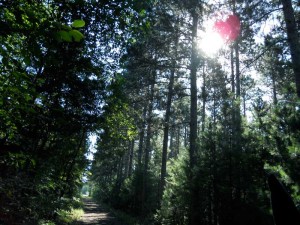 The mosquitos were bad. If you click on the photo, you can see better how many mosquitos are on Luke's face. It surprised me as there was a healthy breeze.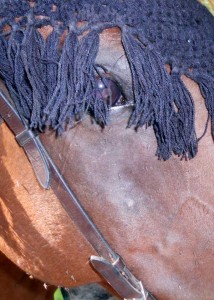 It was good being out riding the trails again and taking a mental health break for both of us from the ring work.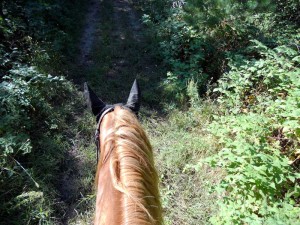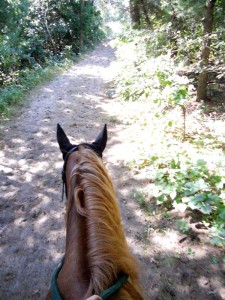 The biggest challenge of the ride was putting the trailer back. There are three boarders with trailers and mine is normally in the middle. I tried for an hour (or what seemed like an hour) to put the trailer back into the middle spot. There was no one there to direct me. I finally gave up on that and parked on one of the outer edges and wrote a note of apology. I'm sure I'll get better at this eventually.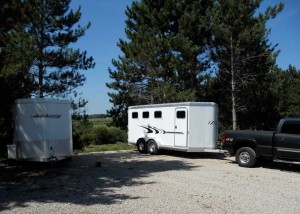 Saturday evening there were burgers and beers with friends. Nice!
I found a helmet I loved so much on line that I called around and Friday evening I drove an hour across town just to get it. It's called "Nutcase". Fitting, isn't it? The logo is a bit off – "I love my brain". I'm not always loving my brain or at least the way it thinks sometimes, but I'm working on that.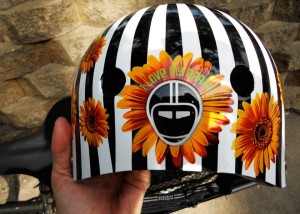 This helmet makes me actually want to wear a helmet! I wonder if I could use it for horseback riding too?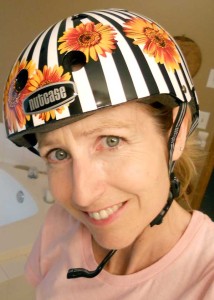 After my Sunday morning walk with Java. I rode about 7 miles to run some errands. It was mega windy out so that was as much as I could take.
The rack and basket on the back of my bike came from Ramsey Bicycle, where I bought my bike several years ago. I can't wait to use it for groceries or a trip to the library! That's one of the good things about living closer in town. I can bike to so many places instead of taking a car. Good for my bod and mind.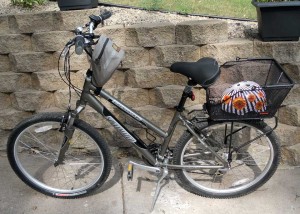 Did I mention that I love Ramsey Bicycle? They put the rack on for me and gave me a little bell for my handlebars. They are really good to their customers. So few businesses are so personable and helpful. It does make for loyal customers.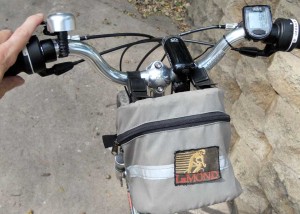 In other words, it was a great weekend! I'm learning to enjoy the moments, spend more time enjoying life, and not work so darn hard all the time.
In the words of Dr. Seuss:
Waiting for the fish to bite or waiting for wind to fly a kite.  Or waiting around for Friday night or waiting perhaps for their Uncle Jake or a pot to boil or a better break or a string of pearls or a pair of pants or a wig with curls or another chance.  Everyone is just waiting.  ~Dr. Seuss
No more waiting.