Chalk Another One Up For Mary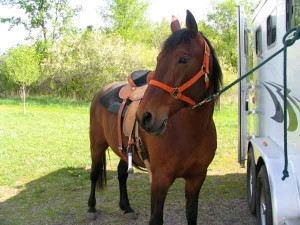 Murphy at Rum River Park
Just a brief word, because I am so totally proud of myself! I drove the horse trailer with Murphy in it to the park and went riding for about an hour — all by myself! 
I was nervous as all get out, but I didn't allow myself to think for very long about it — just went ahead and changed clothes after work, prepped the trailer, loaded Murphy, and went.
Murphy is so much more energetic on the trails than he is riding around in the ring at home. There are a number of steep, sandy hills in the park and Murphy thinks it's easier to run as fast as he can up them. He's so comfortable to ride, he has me thinking twice about selling him. 
I'll have to try the same thing with Luke next and see if I can manage him on the trails by myself. He tends to spook a whole lot more than Murphy. He can also run a whole lot faster than Murphy so it's more work to keep Luke under control.
In case you are wondering, the orange halter in the photo is something I bought to keep on Murphy during deer hunting season when we're in the woods. I've run into deer hunters before and it's a little scary, even if you do wear orange.