The Up and Down of Things
An Ode to May
messily
                  meandering
maimed and misunderstood
        oh you 
monstrosity of a month
Ah, yes, written during the down-of-things. The upside of May is found in Jamaica Kincaid's book, My Garden (Book):  
"The month of May comes on suddenly and moves along swiftly, and each day pleasure after pleasure is flung before my eyes… That is May, the month I love the most, and when my turn comes to make the world, as surely it will, I shall make my May ninety days long. December, January, and February shall be allotted ten hours each; I have not finalized my plans for the other months but none of them shall exceed May."

Jamaica Kinkaid, My Garden (Book):
I did experience Kinkaid's side of May as well. But, oh, the down of things…
Maybe it was the raking, weeding, the picking up of sticks. Maybe there was too much crouching. Too much movement from sitting to standing, repeated over and over like the rise and fall of the pumps in an oil field. 
Whatever IT was, mid-May I was hunched over crutches, in a full knee brace, resting with my knee iced, and counting the minutes until the next dose of ibuprofen.
After five months of progressive healing, this frightened me.
When I chose the name Maery Rose it was to help me remember to not give up. To remember that no matter how many times I'm knocked down or how far I fall, I would always rise again. 
And so I became Maery Rose. It felt like an assumption or a command.
I'd rise. I'd ride my horse. I'd walk in the woods. I'd meet a friend for coffee. I'd shovel manure and stack hay. I'd learn how to plow snow with a tractor and bike camp, and whatever else I could come up with to make myself feel solid and whole.
Rising, in my mind, involved physical movement, motion, putting one foot in front of the other. It meant going the distance. Meeting a challenge. A physical challenge that put me squarely back in my body and life. "Still here," I repeated throughout the day.
I don't know any other way of being, how to live without searching for footholds and roots to get me back to the top of the hill. Can it be said that Maery Rose in utter stillness? 
It's risky to have your mental health depend too heavily on movement. Even though my knee feels better after two weeks of rest, the past five years tell me mobility difficulties will happen again. And although, I don't want to focus on the whatifs of future injuries or pain, I do want to adjust my idea of what's necessary for me to enjoy life.
Because summer is the time to sit outside and see magic. And, in my case, write about what I see, whether real or imagined.
Views of Nature
My outings, besides my walks around my yard, have been occurring by bike, since bicycling is a non-weight bearing activity and a-okay for Maery.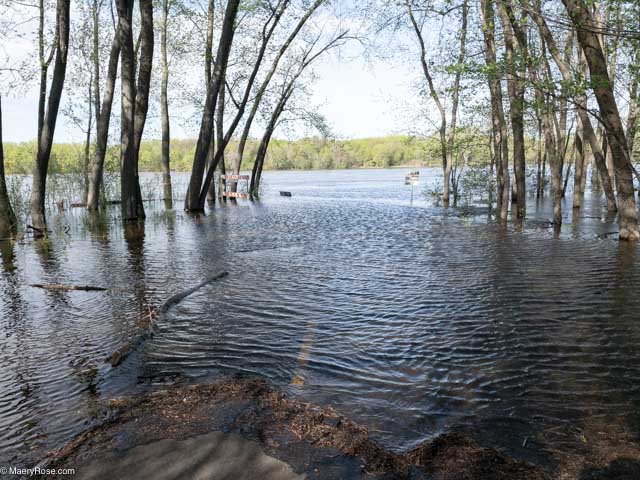 However, my usual routes run alongside the Mississippi River, which reached record flood levels around the third week of May. I kept running into dead-ends until Memorial weekend, when trails re-emerged from the muck. Steve and I rode for fifteen miles, the longest ride I've done this year on my eBike.  
Steve recently converted his standard fat tire bike into an eBike by adding a motor and battery to it. There wasn't even any swearing involved in the conversion.
"Beyond this swamp, beyond these sweltering lands, there were other worlds. Places she could have gone. People she could have been. She felt them now, these other selves, stirring like ghosts in the grave of her soul. She had let too much of the past, of time and the river's currents, shape her. " 

~ Andy Davidson, The Boatman's Daughter
In My Gardening and Growing Life
My garden will be smaller this year. My efforts are concentrated on two knee-height raised beds on my deck and a couple of beds in the yard that I'm planting in stages, using my new rolling cart. The seat looks like something from an old tractor and is surprisingly comfortable.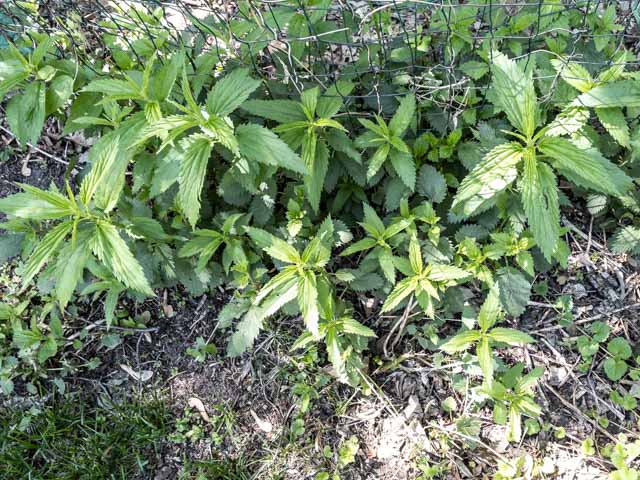 The wild things that sprouted on their own or were planted several years ago are growing the best. These include nettle (which is very nutritious; I've frozen one batch to use like spinach), boneset (a handy herb to have around when you're prone to breaking bones), marshmallow (good for soothing coughs and inflamed tissues), motherwort (grows on its own amongst the trees and is good for anxiety), dandelions (I've been using the leaves in salads and sandwiches; they're a bitter and good for digestion), and calendula (a flower that reseeded itself and is good for applying to bug bites, scratches, and rashes).
Three Recent Reads
The Boatman's Daughter by Andy Davidson: A story of how Miranda Crabtree survives as best she can in the bayou, living with an old witch and a strange young boy who are threatened by both human and supernatural dark forces. There was much creepiness to this story but told with such beautiful descriptions of people and place.
The Fifth Season by N. K. Jemisin: The first in The Broken Earth trilogy. Set in the future, the story follows three women, all of which are orogene's (humans with the power to manipulate and direct kinetic energy). Some orogens's manage to live in secret while others are trained. The main story is of a secret orogene searching for her daughter. I can't wait to read the next book of the series.
The Sentence by Louise Erdrich: As the story begins, the main character, Tookie has been sent to prison for 60 years for the crime of a lack of judgement. Basically, she was railroaded. Books save Tookie's life, first inside the prison and then outside. After Tookie is given an early release, she is hired by Birchbark Books, a real-life, local to me, bookstore, owned by Louise Erdrich. The book touches on the recent events of the murder of George Floyd and COVID and the effects on small businesses, all wrapped into a ghost story and told with Erdrich's wonderful humor and storytelling skills.
Wishing you all a good summer and many happy reads!