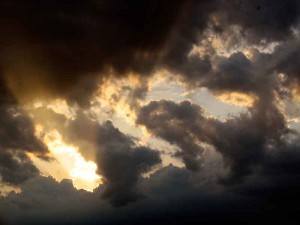 I keep waiting for something like this to happen with my life — the sky to open up and a bright light to beam through the darkness.
I spent 90 minutes this evening writing up an offer on a house I looked at yesterday. I don't like the house inside or outside but I liked the wooded acre it was on and figured if I got it cheap enough, I could remodel the inside. I couldn't take any more of the reluctant sellers of the house I'd previously offered on so I gave up on that one.
Well, 15 minutes after writing up today's offer, I called the realtor and cancelled it.
I had driven to what I believed would be my future home and parked in front of it this evening because there is a neighbor next door that concerned me and I haven't been able to get a straight answer on what all the pole barn, heavy equipment, and paths through the woods meant.
Tonight, a guy was out with some sort of machine with a roller and was crushing brush and moving mud right next to my future property line. Granted, there's a border of trees to block the view somewhat, but they can't block the crushing brush noise, motor noise, and beep-beep-beep every time the guy backs up.
Thus the cancelled offer and the fog I'm currently in.
I don't care if the guy only does this one night a week for one hour, I'm afraid that there may also be dirt bikes and four wheelers roaring around at other times. I'm trying to find a peaceful place to recover from losing so much of my cowgirl dream. This obviously would not be the place to do that.
Tomorrow will take me to the one month before closing and vacating my home time frame. Unless the sellers of the house I really want suddenly have a change of heart due to some miracle, I'm not going to find a house to buy and close on in time.
So I'm down to trying to find another option. People tell me to rent and take my time finding something to buy. Have you ever tried to find a decent place to live that will rent on a month by month basis? Plus, at this point, I'm fully expecting any perspective rental place I call will tell me, "Oh, we just rented that unit out 10 minutes ago."
I'm losing my home and my country-horsey lifestyle and I have nothing to bandage that wound with. I wanted, NEEDED, so badly something to help me get through that.
Oh, and if you are one of my peoples who have done so much for me during my "trials", please do not take that as a slam. I love and appreciate you all. "Home" is a thing I have felt little of. Home, the physical and emotional, is something so intense for me. I don't know how to explain it. Maybe it's the adoption thing, I don't know, but I want so badly to find this thing called "home", where people accept you and love you. Since I'll be living alone, I guess home is not a place. I don't know what it is because I haven't found it.
I know there are worse problems in the world, but I guess this still hurts. But then, life has felt too hard for a long time and I've managed to not give up.
Because it can't be that much longer before a break shows up. Can it?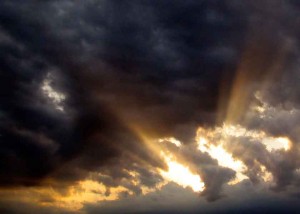 p.s.
Lisa of
Laughing Orca Ranch
, who manages so often to make me feel better and whose horse journey I love to follow, sent me a link to a song called
Exactly
by Amy Steinberg. The song ends with the following words.
when i try to fight or run
i only wind up back at square one
when i think i know what's best for me
fate she takes me back
to exactly where i need to be
and when i am alone and full of fear
i just remember the rising sun always appears
everyday miracles, miracles that i see
well they take me back
they take me back
they take me back
to exactly where i need to be
In my case, I can't imagine what I'm being taken back to, but I'm still hoping the light will come on and I'll find that answer soon.