My cousin A stopped at my house on Memorial Day to check out how our remodeling turned out. "It's beautiful!" she exclaimed. "Yes, thank you, it certainly is," was my response. The countertops are called Yellow River — so flowy and pretty. Heavy sigh…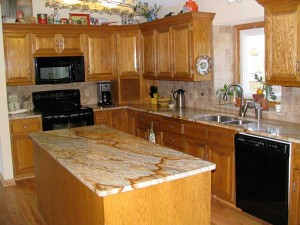 After oohing and ahhhing over the house, we drove out to A's family's cabin, which isn't too far from where I live. 
A's Mom (my Aunt), A's four kids and their friends, plus A's brother and his wife and daughter and her friends, were all there. A's sons cooked some hot dogs and tasty seasoned chicken on the grill. Plus we had corn on the cob, baked beans, a couple different kinds of salads, bread, and watermelon. It was fun seeing everybody and being at the old cabin, where A and I spent a lot of time as kids. We were the bestest friends all through our childhood. 
The cabiney, lakey smell carries so many memories of early morning fishing on a glass-surfaced lake, feet fights on damp, musty blankets, and water ballet dances to songs A and I made up "Let me show you the waves of the sea, waves of the deep blue sea, La La La La…"
Here, we're all gathered inside because it was soooo windy outside!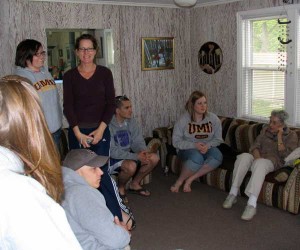 And here's A's Mom duking it out with her granddaughter. It'd be maybe a little more believable if Aunty wasn't smiling so big. M is certainly looking frightened.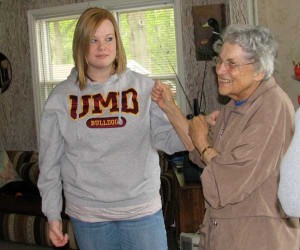 A and I also visited with the people in the cabin next door. Mr. R and his daughter have been busy remodeling their cabin. It's been kind of a fun project for them, working on it together. They managed to find nice oak kitchen cabinets for free on Craig's list. Very cool. I wish I could have done something like that with my Dad.
An old friend, J,  from a couple cabins over stopped over as soon as the food came off the grill. Good timing. J recently went to Mexico, where he met a salsa, hip hop dancer? Something like that. Anyway he learned some dance moves, worked on his Spanish, went snorkeling and kind of immersed himself in Mexicana. Now he's doing some kind of salsa-aerobics class at the Y. Sounds interesting. I may have to take him up on some lessons.
The sun did manage to peep out before A and I left, but the wind was still strong. We sat on the dock for a little bit, holding tight to the bench, lest we blow away. 
So funny watching the young girls hang out and remember how A and I used to be. There was the old flooding the boat motor trick we used to pull when a boat with cute boys went by so they'd come rescue us. There was also the time when I was trying to be all sexy walking down the dock, waving goodbye to said boys. Wasn't watching where I was going and walked off the side of the dock into the water. Very graceful…
Ah, yes, those were the days. You couldn't pay me to go through them again!
Our family has a long history of spending summer vacations at the lake, first at rented cabins, then at A's family's cabin.
Even before A and I were born, our crazy parents were hanging out at the beach. This is my Dad, Mom, and A's Mom (the boxer in previous photo). Check out those legs! Very movie starish!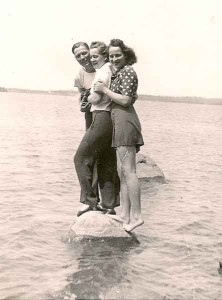 This is A's brother, me, and my brother. I guess my brother and I were hat people, his a captain's hat and mine what I think they call a Paddy hat. It also appears that we were the ones who were forced to wear life jackets. Geeze!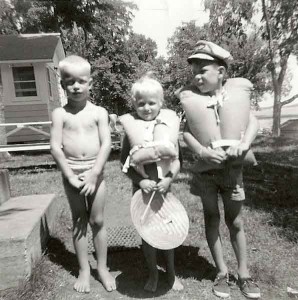 This is A and her brother. Cool bumper shoes on A!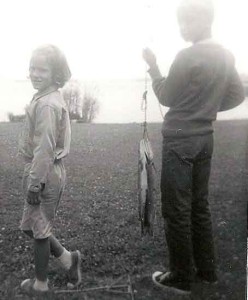 This photo was actually taken at the cabin we were at on Memorial Day. That's A's Dad and another cousin in the boat. I'm pretty sure that's A and I swimming around the polka dotted raft. The dock was polka dotted for awhile too. With my bad eyesight, those polka dots were about the only thing that told me where to drop off when we went waterskiing.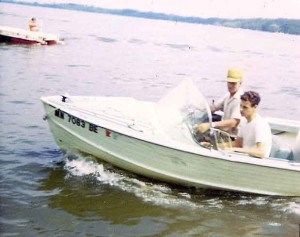 Yup, we've had some crazy times at the cabin.
And we've had some sweet times.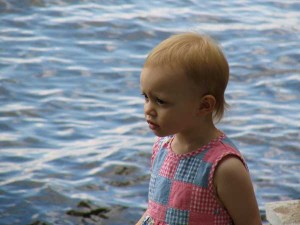 I remember my summers there as being the best part of my childhood. Too bad the old tricks with the boys probably won't work for me now. Another heavy sigh…