A View From the Potting Shed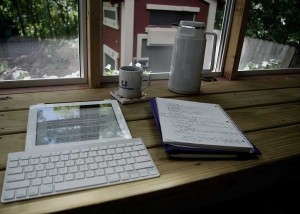 My general stress level makes me wonder how I manage to be mistaken for a normal, functioning human being from day-to-day. Wait, I do generally look normal and functioning, don't I?
Floating down the river last Saturday was a wonderful moment of escape from an ordinary life, but I can't get out and do that every day. So my mini-escape hatch is my potting shed. I can go out there and work on my iPad or read. I can ditch that feeling of the world simultaneously asking too much of me and not seeing that I'm there.
When I was house hunting two years ago, I found a home that was on the Elk River and was thickly surrounded by trees. I loved the lot the house was on, and it had a porch that looked out through the trees towards the river. On one viewing, I sat in the porch at a high top table, imagining myself sitting there in the morning, listening to the birds and rustle of wind, a mug of steaming coffee in front of me, while I wrote one of many best sellers.
Alas, that is not the house I ended up with, but my newly installed potting shed, with the view of chickens, is the next best thing. Right?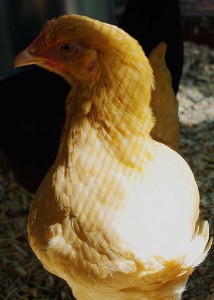 I think every woman needs a special place to get away from the sight of laundry, dirty dishes, and balls of dog and cat hair intermixed with sand that skitter across the floor as you walk through the room.
It's also good to remove myself from sources of food that I eat mindlessly, trying to counteract the boredom of above said tasks or the frustration of being stuck on a paragraph that will not be beaten into something brilliant or at least funny.
Bit by bit, I am turning the potting shed into a cabin retreat — a space where my mind has room to run free.
Do you have such a place to escape? Or maybe not a place but an activity that heals the frazzles?